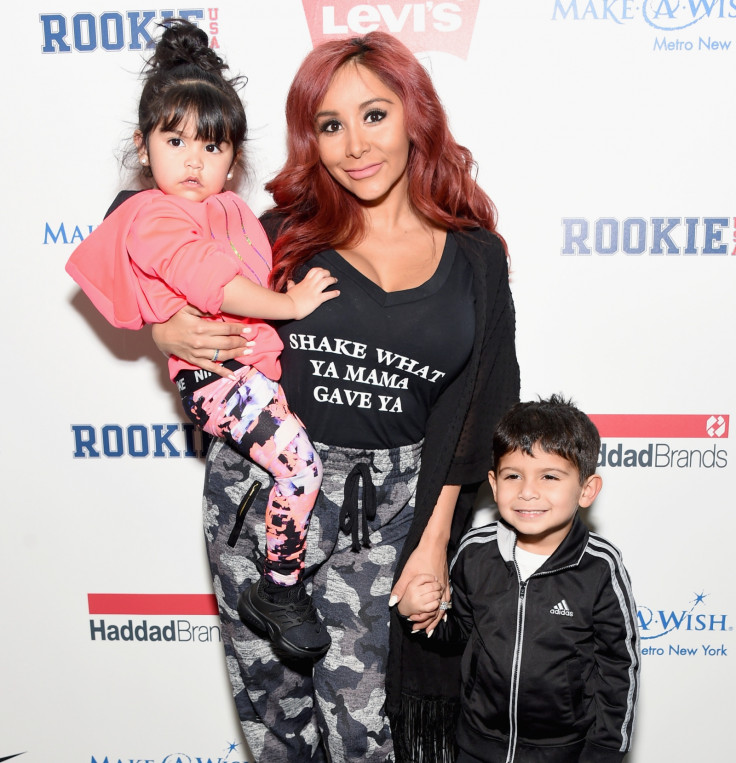 Nicole Polizzi aka Snooki shared an adorable photo with daughter Giovanna on Mothers Day (14 May) and shut down the mommy-shamers who criticised her parenting style.
Snooki shares two children with husband Jionni LaValle – two-year-old Giovanna and four-year-old son, Lorenzo Dominic. The Jersey Shore alum had earlier come under fire for posting a photo wherein she is seen putting makeup on her daughter.
The reality TV star has now shared a photo of herself hugging her daughter, who is wearing a pink tutu with black-and-white polka-dot trim on Instagram. The 29-year-old wrote, "So proud of my little girl! ❤ (instead of not posting my kids for the people who respect and appreciate their photos, I will turn off the comments section."
Calling herself a good mum, she continued, "I don't need a******s telling me how to raise my child and judge them. I'm a damn good mom and know what I'm doing. Well, most of the time.) Happy Mother's Day to all you kick a** Mamas out there! ❤"
In another Instagram post with Giovanna and four-year-old son, Lorenzo Dominic, she wished Mothers Day to everyone. The caption reads, "Happy Mother's Day to all you bad a*s moms out there! We are the ones who make our kids the awesome human beings they are. Keep being amazing and enjoy your day, because this is our day to be the true Queens that we are! #WeRuleTheWorld."
Earlier, Snooki had posted a photo on the social media site, wherein she is seen applying makeup on her daughter. She captioned the photo as, "Getting sissy ready for her dance recital. This is the best Mother's Day gift to me! #mommysgirl #minime @essexdanceacademy".
This post has garnered mixed response as many thought of it as a cute photo, but some criticised the reality TV star for applying makeup on the little girl. One user wrote, "Here come the mum shamers with the makeup comments! Shes so cute Nicole! Cant wait till my daughter starts dance."
Another fan commented, "Still can't understand why people bother to comment negatively about a post! Like if you don't agree with a post unfollow!! @snooki So cute!!""