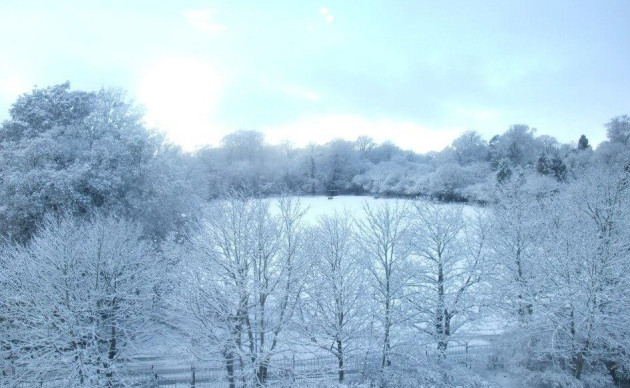 Parts of the UK could see ten inches of snow fall over the weekend as the Met Office issues a severe weather warning, with blizzard conditions likely.
The Met Office said snow is expected to spread from the southwest and that there is the potential for severe disruptions.
"The public are advised to watch for updates to this warning and to be prepared to alter travel plans."
Over 15cm of snow is expected across the UK, with 25cm over higher ground. "A band of snow is expected to move across the whole country on Friday, bringing widespread snow accumulations and leaving icy conditions to all areas excluding western Cornwall.
"Further snow showers are expected on Saturday away from the southwest, particularly along east coast areas, retaining the risk of ice.
"Lighter snow showers on Sunday Midlands northwards. Strong winds at times across the country will make it feel bitterly cold."
Areas that have been issued with an amber weather warning - meaning the public should be prepared - include Wales, north west and north east England, Yorkshire & Humber, West Midlands, East Midlands and south west England.
Leon Brown, chief meteorologist at uk.weather.com, said snow will fall across most of the UK on Friday, followed by another threat of snow on Sunday evening.
He also warned of freezing fog patches and widespread frost, with temperatures below freezing in most areas.
Freezing fog very likely
"By the end of Friday southern England can expect five to 10cm of accumulated snow and central England 10 to 15cm. The higher parts of Wales, Pennines and Southern Uplands in Scotland can expect in excess of 20cm, and possibly 30cm," Brown said.
"Over the weekend it is expected to stay cold with freezing fog very likely. Some lighter snow showers around on Saturday and mainly in the north. A severe frost where skies clear on Saturday night and temperatures possibly as low as -15°C."
Bristol Airport has warned passengers to check their flights before leaving home because of the snow: A statement read: "Bristol Airport's flights are operating as normal although due to the anticipated weather over the next 24 hours passengers are advised to allow additional journey time to the airport.
"Passengers are also advised to contact their airline to confirm the status of their flight before travelling to the Airport."
Heathrow Airport has issued a similar warning, telling passangers to check their flights before travelling.
Earlier this week, Norfolk was hit with a snowstorm that was described as a 'white out' and was much heavier than was forecast. The temperature fell from 5°C to half a degree in 40 minutes.
As a result, 264 schools across the county have been shut and the police were called to 60 road accidents, which lead to the closure of parts of the A47 Norwich Southern Bypass.