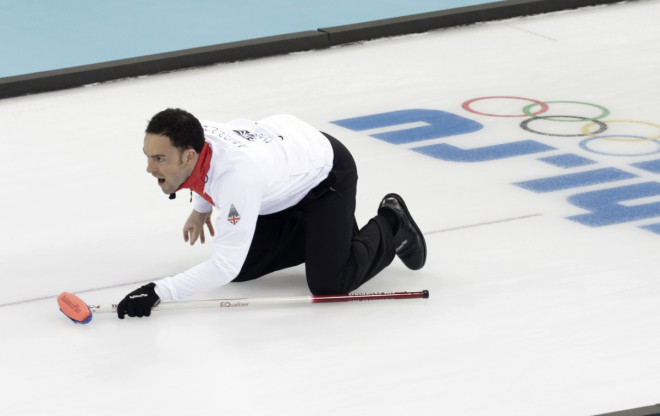 Events:
Alpine skiing, cross-country skiing, ice hockey & snowboarding
Biathlon, bobsleigh & speed skating
Men and women's parallel giant slalom
Men's giant slalom
Women's curling semi-finals
Women's speed skating
Women's speed skating
Men and women's biathlon
Ice hockey
Men's ice hockey quarter-finals
Men's giant slalom
Men's curling semi-finals
Men and women's cross-country team sprint
Men and women's parallel giant slalom
Best of today's ice hockey
Women's figure skating
Highlights:
Women's Curling
Great Britain's women missed out on a place in the curling final after losing to Canada 6-4 in Wednesday's semi-final but will still have the opportunity to compete for bronze when they take on Switzerland in a third place play off on Thursday.
Canada dominated the meeting from the off as they stormed to a 3-0 lead after two ends and an unerring Jennifer Jones sealed a win to maintain her rink's unbeaten run throughout the 2014 Games and set up a final against Sweden for gold.
"I came into this tournament saying I wanted no regrets and we gave everything we could in that game," Muirfield told BBC Sport following the defeat.
"I'm proud of the girls and we've still got a chance of a medal. I don't want to come away without a medal around my neck.
"Our backs were against the wall but we gave it back to them and it was a high quality game. We've trained hard for this and we'll give the next match our all."
Men's Curling
While the women suffered disappointment, the men sealed their place in Friday's final with a dramatic 6-5 win over Sweden to guarantee Great Britain at least one more medal at the 2014 Games.
Sweden looked to have regained the initiative after a mistake from Scott Andrews half way through the final end which handed the Scandinavians a 5-4 advantage.
But after an error from Sweden skipper Niklas Edin, GB captain David Murdoch eased his final two stones down the line to seal a dramatic 6-5 win and book a place in the final against defending champions Canada.
With gold or silver to be won for Murdoch's curling rink, Great Britain will enjoy it's most successful Winter Olympics since 1936 after Jennie Jones and Lizzie Yarnold secured bronze and gold in their respective events earlier in the Games.
Bobsleigh
Great Britain's Paula Walker and Rebekah Wilson finished in the top 12 in the final round of the women's bobsleigh, a finish that left both women unsatisfied.
"I wanted to do so much better," says Olympic debutant Wilsontold BBC Sport.
"I don't know what went wrong really, I had a horrible third run and it hasn't got much better, we just need to move on and think about the next Olympics, " Walker added.
Canada 1 duo of Kaillie Humphries and Heather Moyse capitalised on disappointing final run from the US to defend their run and seal gold, as USA 1 pair Elena Meyers and Lauryn Williams threw away a 0.23 lead en route to settling for second.