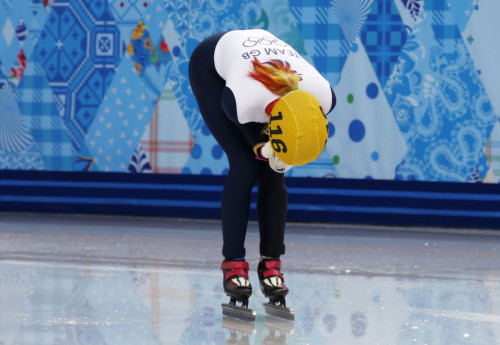 Great Britain's Elise Christie suffered a second disqualification in the short track speed skating competition after a finishing-line infringement in the ladies' 1500m heats in Sochi.
Christie finished a centimetre outside the line in the second 1500m heat and was given a DNF despite appearing to have originally crossed the line as one of two qualifiers alongside Italy's Arianna Fontana.
The ruling is the second time Christie has suffered at the hands of the officials at the Adler Arena after being stripped of a silver medal in Thursday's 500m final for causing a collision.
But the fine margins involved in the decision to disqualify Christie from a second event in three days will hurt and likely damage her confidence ahead of her preferred 1000m event, in which she is the reigning European Champion, which begins on Tuesday.
"I was heading out to watch my team-mate race, then I saw I had got a penalty. I had no physical contact with anyone, so I have no idea what I was penalised for," the Livingston born skater told BBC Sport.
"I was playing safe after the 500m final, by trying not to be near anyone. I am gobsmacked - I expected the decision the other day, but not now. I have found it hard, but it is not always about medals. I have to keep pushing through."
Great Britain short track speed skating performance director Stuart Horsepool added: "We are talking about the smallest margin ever. There is nothing we can do. She won the race, we are absolutely devastated. She was trying to win the race, she was lunging for the line.
"She was making sure she was safe and she went what we are talking millimetres. These things happen in sport and there is no accounting for it.
"Luck doesn't even come into it. We have to pick ourselves up and come back on Tuesday and hopefully we can have good luck instead of all this horrendous back luck."
Christie has also revealed she was forced to close her Twitter account after receiving abuse via the social media platform following her 500m disqualification earlier in the week.
"I have had to deal with abuse on the internet as well," she added. "So I have found it hard. I have had a few people threatening me, cyber bullying basically.
"I need to find a reason to respect the referee's decision. At the moment, I have no idea what is going on."