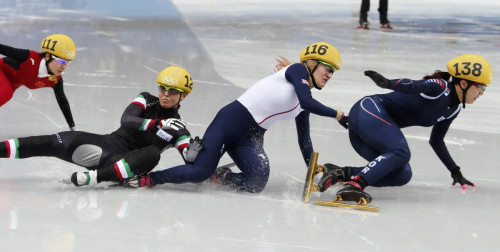 British speed skater Elise Christie was subjected to online abuse on Twitter after being stripped of a silver medal at the Sochi Winter Olympics.
The 23-year-old came second in the 500m speed skating final on Thursday but was disqualified for having caused an accident in which she collided with two other sprinters.
"I have had a few people threatening me, cyber bullying basically, so it's been a tough few days," Christie said. "I have had to deal with abuse on the internet. So, I have found it hard but it is not always about medals."
One of the skaters who fell was Korean world championship silver medallist Park Seung-Hi. She finished with the bronze after getting to her feet, but it is understood that much of the abuse received by Christie came from Koreans blaming her, according to a Telegraph report.
The comments included threats of sexual violence, calling her a "bitch" and a "f****** idiot."
Professor Mary Beard, a Cambridge academic who has also experienced Twitter abuse, said during a London Review of Books lecture at the British Museum: "The 140 characters of a tweet act as a kind of magnifying glass on attitudes we find elsewhere.
"It's hard not to see some faint connection between these mad Twitter outbursts and the blokes in the House of Commons heckling women MPs so loud that you simply can't hear what they're saying. In the Afghan parliament, apparently, they simply disconnect the mics when they don't want to hear the women speak."
A Team GB official refused to be drawn on who had been tweeting "unsavoury remarks" towards Christie. After consultation with the British Olympic Association, it was agreed that the British athlete should have her Twitter deactivated.
Other athletes, including Rebecca Adlington, Tom Daley and Beth Tweddle have been targeted by trolls on Twitter.