"I was detained in inhuman conditions," Cameroonian journalist Simon Ateba told IBTimes UK during a phone call from Abuja, few days after he was released from a prison in Cameroon's far north region.
Ateba, who has been living and working as an independent reporter in Lagos, Nigeria, for more than 10 years, was given a grant by the Abuja-based International Centre for Investigative Journalism to report on the living conditions of refugees in Cameroon and Chad.
Ateba was arrested on 28 August as he entered Cameroon's Minawao refugee camp, which hosts about 50,000 Nigerians who have fled their homes due to the deadly insurgence of terror group Boko Haram. He was arrested after authorities claimed he did not have an official permit to enter the camp and suspected he was working as a spy for Boko Haram, whose militants also carry out attacks in northern Cameroon.
"They took me to the Mokolo Gendarmerie, where I spent three nights," Ateba said and added that prison guards took his phone and passport. "I was scared because they said they were accusing me of spying for Boko Haram and for this accusation you can spend months and years in prison.
"I was detained in inhuman conditions. In the cell there were three other guys who could not speak English or French, we could not communicate," he continued. "They [prison guards] did not take me to the restroom, I was hungry and they did not give me food. Sometimes they would come in the evening and said that if I was hungry I had to pay them [for food]".
The power of social media
After repeatedly asking to be allowed to call his family, Ateba was given his phone to make a call. "They did not know that my phone was connected to the internet and I could post on social media. So I contacted friends to quickly explain what was going on. People could see I was telling the truth," he explained.
After Ateba posted pictures of the cell where he was being detained on Facebook, friends and activists started campaigning for his immediate release and Cameroonian and Nigerian media started reporting on his arrest. This, according to Ateba, led to his release.
"Social media played a critical role for my release," he said. "I knew that if something was not done fast enough, I would have been there for maybe years. I think the pressure was too much as the international community as well as Cameroonian and Nigerian newspapers, TV and radio stations came together.
"One of the lessons that I learned is the power of social media, which is really fascinating. People around me knew that I am a man of integrity, I have been doing journalism for more than 10 years, I have a blog - Simonateba.com - people knew I could never be a spy."
Boko Haram fears leading to abuses against journalists
Ateba warned that at least two other journalists are currently being detained in Cameroon, where information is controlled by the government.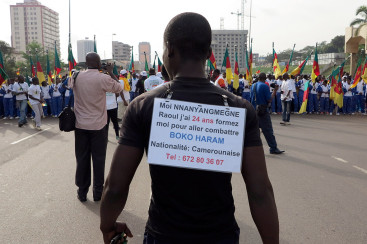 Cameroon ranked 133rd out of 180 countries in the 2015 press freedom index. According to the Committee to Protect Journalists, which advocates for the rights of journalists to report without fear of reprisal, Cameroon has a "poorly funded independent press and the main threat to the media and journalists in Cameroon remains the government".
After a trip to assess media freedom in the country in 2014, Reporters Without Borders, which strives to guarantee freedom of expression and information, urged the government to promote fair and balance coverage of the then forthcoming elections and guarantee freedom of expression across the nation.
Atemba said: "They arrested another journalist yesterday [7 September] because he went too close to the Lake Chad, on the border with Chad. Another journalist has been in detention for more than a month because authorities believed he is an informant for Boko Haram. The fear of terrorism is pushing the authorities to consider journalists as enemies they should be scared of.
"In Cameroon, there is a systematic way of controlling information and even when you go to investigate on stories about Boko Haram, they are scared that you will put the country in a bad light," he continued.
Ateba thinks that he will not be able to go to Cameroon, where his mother lives, for years. However, the detention did not curb his desire to keep writing to share information and contribute to the fight against terrorism.
"Cameroon needs to understand that it has to make it easy for journalists to access information, and if they want to defeat Boko Haram, this is the way forward," he concluded.