It will be one big party in the Beyonce camp today (24 June 2016) as the singer's younger sister Solange Knowles celebrates her 30th birthday. Many would assume that Knowles has lived in the shadows of her significantly more famous sibling but the fashionista has built a following in her own right in recent years.
Turning 30 tends to be a daunting prospect for most but Knowles is ready for it. In an interview with Elle magazine in April 2016, Knowles admitted: "I feel like I was 30 when I was 17, and I decided to get married and have a baby. So now that my son is older and more independent, he's really into basketball, he has his friends and his playdates, and I feel like I'm reaching my own level of independence."
She added: "I have sisters in their thirties and they say you don't bite your tongue as much. You say what you mean. You cut out the b******t way faster. You know your friends. You don't have a tolerance for fake people or situations. And I feel like I'm already like that in my twenties, so my thirties, I'm almost kind of scared of how blunt I might be!"
As Knowles celebrates her birthday, IBTimes UK lists all the reasons she totally rocks.
Fashion
Through her flawless fashion choices and edgy sense of style, Knowles has become quite the trendsetter. In May 2016, Knowles launched her own fashion range, Saint Heron, a collaboration with Australian brand C/MEO Collective. In fact, it has been noted that Beyonce's style has become less polished over the years and appears to be more inspired by her younger sister's outfits.
Explaining how fashion has become part of her identity, Knowles told the New York Times in December 2015: "So many times in society black women try and blend in. I've always tried to find a way to feel closer to my natural self, to express my overall blackness. The moment I wear what I wear, you can see me. There is no way to avoid seeing me."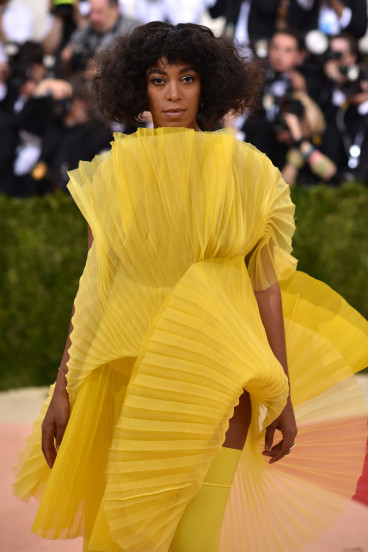 Becoming a teenage mother and marrying young
Knowles has always talked openly about becoming a mother to son Daniel Julez and getting married at the age of 17 and getting divorced by the time she was 21. Despite the experience, Knowles still values the life lessons it taught her, telling Harper's Bazaar: "Just going through a marriage and a divorce – which I essentially did by 21 – will give you an insane amount of perspective on life."
The fashion designer proudly raised Daniel as a single mother until getting into a serious relationship with current husband Alan Ferguson.
Defending her sister in the elevator
Although perhaps for the wrong reasons, Knowles became a meme queen in May 2014 when footage emerged of her physically attacking her brother-in-law and Beyonce's husband Jay Z. Details are still sketchy as to what caused the altercation but many commended Knowles for defending her sister against a rumoured wrongdoing by Jay Z .
Addressing the episode, Knowles told Lucky magazine: "What's important is that my family and I are all good. What we had to say collectively was in the statement that we put out, and we all feel at peace with that."
THAT New Orleans wedding
Again proving herself as the ultimate fashion trendsetter, Knowles earned compliments for the manner and styling of her wedding to Ferguson in November 2014. The ceremony took place in New Orleans and fully embraced the city's culture with her family dancing in the street to the sounds of a live band. Fans also took style notes from Knowles, who opted to wear a chic jumpsuit breaking tradition with a white wedding dress.
Gushing over her special day to Vogue magazine, Knowles said: "When I think of that day, I can't even put it into words. Everyone says it goes so fast, and there were some people that said you're going to be happy when it's over because it was so much work, but I could have lived the rest of my life in that wedding."