30 people have been killed and 61 injured in double suicide bomb attacks by al-Qaeda linked militants al-Shabaab in the city of Baidoa.
The governor of Bay region – where the attacks took place – confirmed the death toll to AFP, explaining the blasts had taken place in the popular restaurant packed with cutomers.
"The official number of the dead has reached 30 people — all of them civilians —and 61 others have been wounded, 15 of them seriously," Abdurashid Abdulah. "The explosion occurred in a densely populated area," he added.
Police in the area explained that the blasts, which destroyed the roofs of buildings, tore through vehicles and left bodies in the road, were caused by a car bomb and a suicide bomber on foot.
Al-Shabaab claimed responsibility for the grisly attack in a statement. "The mujahideen carried out two massive explosions in Baidoa targeting restaurants used by members of the apostate South West Administration," the militant group said.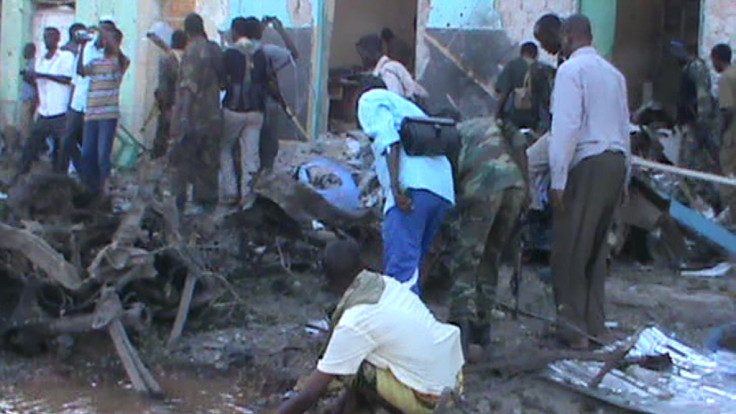 The bomb attack follows on the heels of an al-Shebaab attack on a hotel in Mogadishu, leaving nine dead. The car bomb attack on the heavily-fortified SYL Hotel, named after the Somali Youth League, left plumes of smoke billowing high above the city. At least 30 people were also injured in the assault.
The 22,000-strong African Union Mission in Somalia (AMISOM) backs the government in Mogadishu and guarntess he security of the regional administration in Baidoa.
Al-Shebab has stepped up its insurgency against AMISOM and government affiliated institutions after they were pushed out of the Somali capital Mogadishu in 2011.
In January al-Shabaab killed 63 African Union troops, including Kenyan soldiers, in an assault on al-Ade military base in south-west Somalia.
The group has also targeted civilians at restaurants and other public spaces.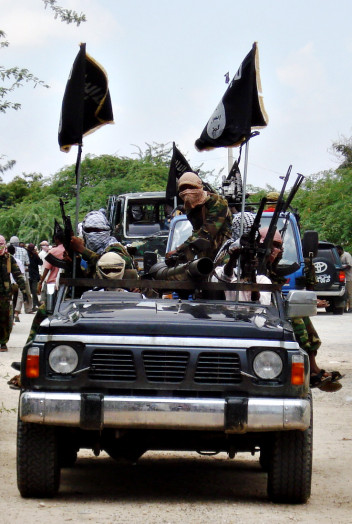 Who are the al-Shabaab militants?
Al-Shabaab,which means "The Youth", is a Somali terror group affiliated with al-Qaeda and Islamic State (Isis, Daesh).
An off-shoot of the Islamic Courts Union – a rival administration to the Transitional Federal Government in Somalia – Shabaab aims to overthrow the Somali government and impose its own version of Islam in the country.
It controlled Mogadishu and the southern region of Somalia from 2006 until 2011, when it was defeated by African Union peacekeepers.
The group often targets Kenya in retaliation for the Linda Nchi military operation, which saw the deployment of Kenyan troops to Somalia to drive out the militants in 2011.