The son-in-law of arguably the most notorious mobster in Italian history is begging for money on Facebook, claiming he has been left penniless after his business was seized by the police last summer.
Antonio "Tony" Ciavarello is the son-in-law of the infamous "Boss of All Bosses" Toto Riina, aka "U Curtu" ("the short one"), who ran Sicilian mafia syndicate Cosa Nostra. Once one of the most-feared criminals on the planet, Riina has been serving a life sentence since his arrest in 1993.
Ciavarello's car part shops were seized amid suspicions the enterprises were used to launder some of Riina's money. Since then, Ciavarello claims he has been struggling to find a job and earn money to feed his family.
"Hello everyone. Unfortunately, I need to ask for help to those who know me,"Ciavarello said in a Facebook post that linked to a fund-raising page.
"I promise you that I will give you everything back when I get back on track with work, or we will help others who are in need.
"I am in a disastrous situation. They took everything and I don't even have a job now as they took my business. Who can help me, please do so as I have three children. I am looking for a job but nobody gives one to me. Please give me a hand. Thank you and may God bless you."
Ciavarello is the husband of Maria Concettato, Riina's eldest daughter. The couple and their children live in Corleone – the infamous Sicilian town that gave birth to The Godfather.
His plea comes months after he abused a journalist from the Repubblica newspaper who reported on the seizure of his business.
The Riina family has reportedly struggled with its finances since its patriarch was arrested more than two decades ago. The mafioso's youngest daughter, Lucia, made headlines worldwide this summer after complaining that the Italian government had refused to give her a maternity grant.
Lucia failed to receive the so-called 'baby bonus', an allowance given to poor families in Italy.
Toto Riina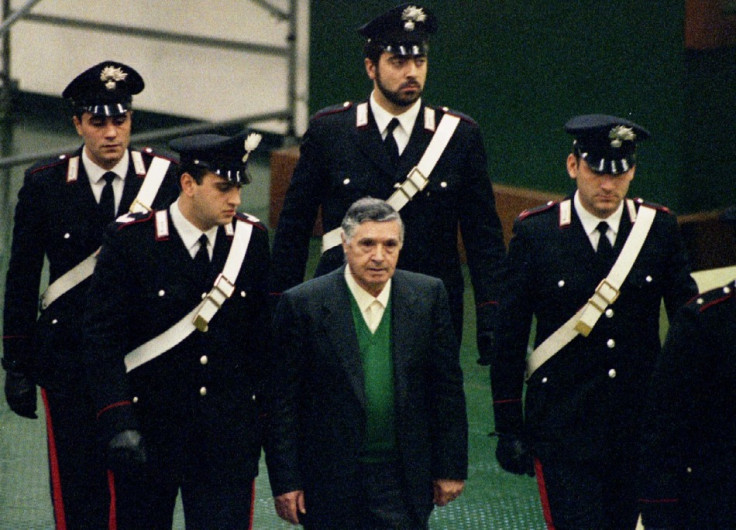 Riina was a brutal crime boss who waged a bloody war against the Italian state. High-profile killings include those of military police general Carlo Alberto Dalla Chiesa and anti-mafia prosecutors Giovanni Falcone and Paolo Borsellino.
In 2014, Riina reportedly threatened to kill prosecuting magistrates who were investigating an alleged truce between Cosa Nostra and the Italian state in the 1990s.
A team of prosecutors led by Nino Di Matteo alleged that members of the Italian authorities had reached out to Riina to end his clan's murderous spree. Riina reportedly agreed to stop the killings in exchange for more lenient prison conditions for convicted mafiosi.
Following a hearing of the so-called "State-Mafia negotiation trial" in July 2014, Riina was reportedly overheard by a prison guard as saying: "Di Matteo shall die and all the prosecutors of the negotiation [trial] with him. They're driving me crazy. They have to die, even if it's the last thing I do."
Riina, who claims to have terminal cancer, could have been moved to house arrest due to his illness,a possibility that sparked outrage in Italy.
Earlier this year, a court in Bologna ruled against Riina's request to leave prison, arguing he could not get better treatment outside.