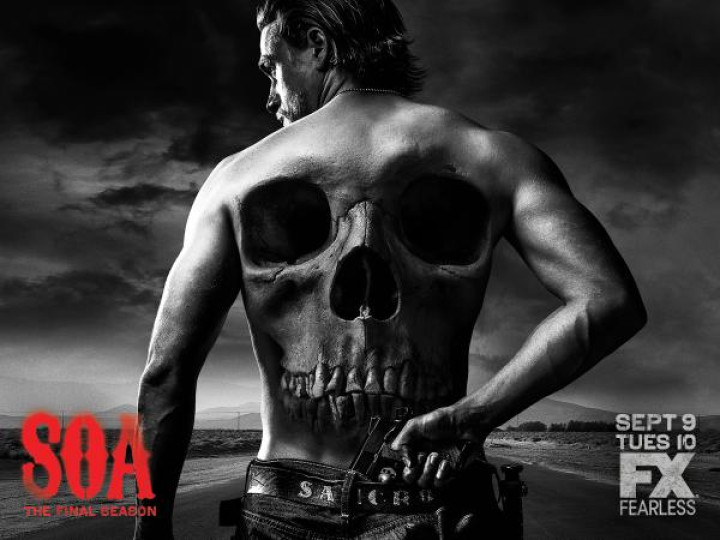 Sons of Anarchy season 7 will end the bloodshed and mayhem when it returns this Tuesday to complete its final ride.
Click here or here to watch the series finale titled Papa's Goods live stream online.
The previous episode was satisfying, yet heart wrenching, as Jax Teller finally did justice to his loving wife Tara by killing his mother Gemma.
However, Mr Mayhem also killed the innocent Unser when he tried to shield the SAMCRO matriarch. Unser, perhaps the only one with a conscience in the club, wanted to stop a son from committing the sin of killing his own mother, but sadly failed.
Fans also witnessed the brutal death of Juice in prison. The pre-finale of SOA's final ride ended with the SAMCRO president completing his revenge journey that he started during the beginning of Season 7.
The father of two's journey of retribution began after the SAMCRO matriarch framed the Chinese Lin Triad gang for Tara's gruesome murder. This drove Jax onto the dark path of violence and chaos.
After avenging his beloved wife's killing, Tara's husband in now introspecting. For obvious reasons, he doesn't want his sons to follow his legacy of viciousness.
He has already told Nero and Wendy to take care of his boys and fans were left wondering why he would say this.
The SAMCRO president now knows that his father John teller committed suicide while riding his bike as he came to know about Gemma and Clay's affair and their plan to kill him.
The show producer has already hinted that John's bike will play one major role during the finale and probably Jax Teller will adopt the same method as that of his father and plan his own death which will look like an accident.
The synopsis of the series finale reads: "Ghosts loom large as Jax makes the final moves to fulfil his father's legacy."
The recent controversial finale leaks suggest that Kurt Sutter's cult classic may end on the tragic note of the death of the show's protagonist Jax Teller. Nero and Wendy, meanwhile, find an exit route along with Abel and Thomas and will live happily ever after in Nero's uncle's farm.