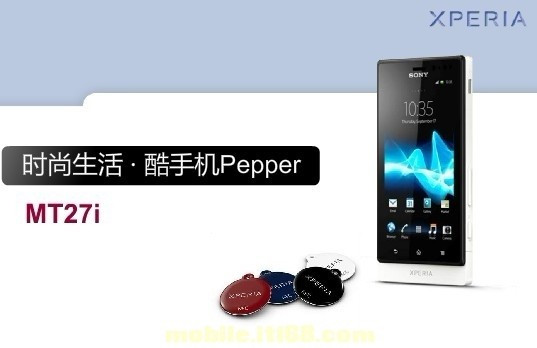 With its MT27i Pepper smartphone finally confirmed, Sony seems set to continue targeting the mid rather than high-end market.
Having appeared in a number of allegedly leaked photos back in January, the Sony MT27i Pepper re-emerged on Friday.
Displayed in a Japanese press shot, the inclusion of Smart Tags on the advertisement indicates that the device will be NFC enabled.
Past this though, the image gave no indication of the Pepper's technical specifications. That said, a number of sites, citing unnamed sources, have reported on the device's spec.
Specifically GSMArena reported that the unit will house a 1GHz dual-core CPU, 3.7in, 480 x 854 pixels screen and a 5 megapixel snapper.
If accurate the spec would place the Pepper in the same bracket as the company's Mobile World Congress-unveiled Xperia U and P devices.
From what we've seen during our opening hands-ons, the two devices are smaller versions of the company's existing Xperia S.
The Xperia P boasts a decent 4in 540 x 960 display, 8 megapixel camera capable of 1080p video recording and is powered by a dual-core NovaThor U8500 processor.
Below it, the Xperia U houses a smaller 3.5in 480 x 854 Reality display, a 5 megapixel camera with 720p video recording and is powered by a 1GHz dual-core processor.
Sitting between the U and P, while the Pepper's theorised spec isn't dazzling, it may still be worth keeping an eye on. The P and U were a pleasant surprise at MWC, with the International Business Times UK being won over by their sleek design.
For a full look at the Xperia U and Xperia P check out the International Business Times UK's opening hands-on previews.