PS4 Users in UK Report Problems Logging Into PlayStation Network
Sony has yet to respond to owners of the new PlayStation 4 across Europe who are reporting problems logging into their PlayStation Network accounts.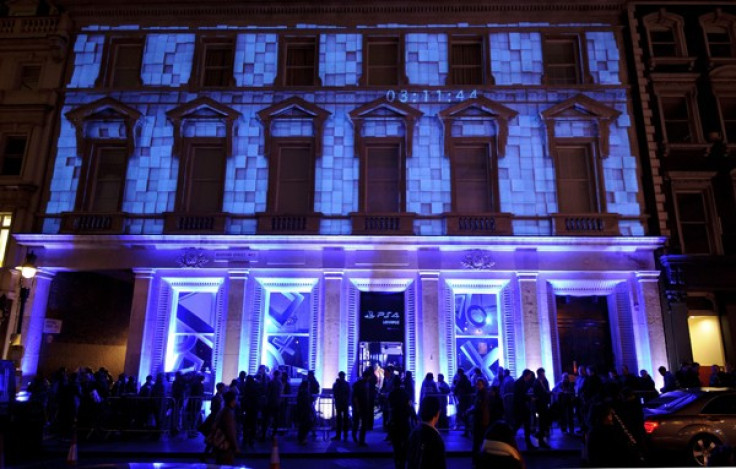 Update: Sony 'Investigating' PSN Issues
The PlayStation 4 went on sale at midnight in the UK on Friday with thousands of fans queing up since Monday to get their hands on the console. However being unable to log into their PlayStation Network (PSN) accounts meaning they cannot download and implement a crucial software update.
The PlayStation Network is the central hub that all new PlayStation owners must log into in order to download software updates when initially setting up the video game console.
Sony issued a firmware update (1.51) on Thursday, which incorporates the larger 1.50 firmware update which adds a number of major day one updates, including adding the ability to play multiplayer games online and switching on the Blu-ray and DVD functionality of the console.
Volume
The console launched in the US on 15 November and saw users there experience similar problems due to the huge number of people trying to log onto the system at once and download the 1.50 firmware update.
In the hours following the launch across Europe, dozens of irate PS4 owners have taken to social media to complain about not being able to log into their PSN accounts saying it mean they "cannot do a thing" with their new consoles.
However our games correspondent Ed Smith has said that users should still be able to play games offline without the update - unlike on the Xbox One which requires users to go online before letting them access any features of the games console.
Sony in the US did issue a response to users however, saying: "The PlayStation Network is currently experiencing extremely high volume. Some gamers may experience some difficulty connecting. We ask for your patience."
No Response from Sony
Sony's official @PlayStationEU twitter account however has yet to respond to numerous calls to clarify the situation, instead continuing to send out tweets unrelated to the problems.
IBTimes UK contacted the PlayStation PR team in the UK for a comment, but at the time of publicaiton we have yet to receive a response.
Earlier this week, it was widely reported that PS4 users in the US had been having problems logging into the PSN and on Tuesday, Sony decided to reset all PlayStation Network passwords for PS3 and PS4 users for "routine protection", the company said on its @AskPlayStation Twitter account on 27 November.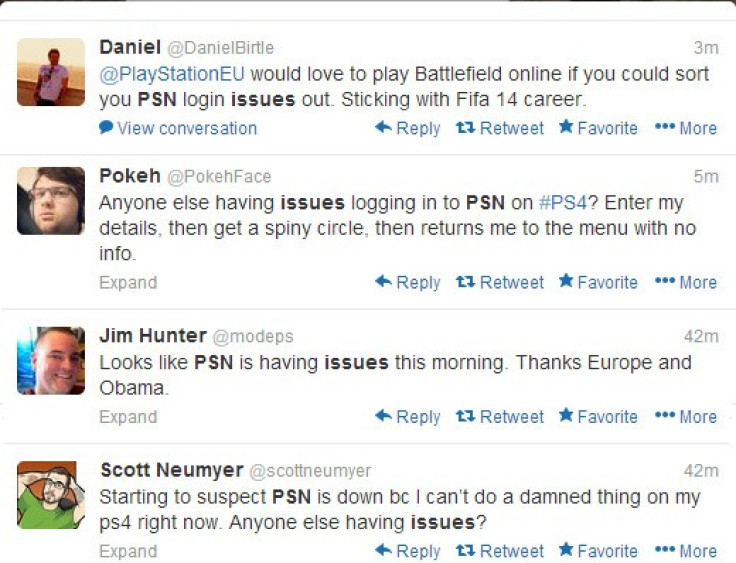 The problem seems to be having a knock-on effect on users in the US.
"Starting to suspect PSN is down bc I can't do a damned thing on my ps4 right now. Anyone else having issues?" Scott Neumyer from Cincinnati said on the social network.
User DerviousMrMatt whose profile says he lives near Cincinnati, Ohio, tweeted saying he is unable to redeem game codes for his son, and that resetting the password is not helping.
He also said that the PSN Plus codes he was trying to redeem are now "invalid".
Taking precautions
Yesterday, Sony posted on its PlayStation Blog that it was taking precautions ahead of the European Playstation 4 launch by turning off the "What's New" and "Content Information Screen" features in the PSN, which we assume is to ease the amount of data being loaded from the PSN's servers onto each user's console.
In the blog post, Sony said: "Not to worry, all of the other features of PSN will be fully available on day one. You'll be able to play online multiplayer games with friends and your gaming community, get trophies, make friends and share videos and live broadcast your games so you can have a great online gaming experience."
Read more:
© Copyright IBTimes 2023. All rights reserved.