Far-right individuals are suspected of multiple attacks on a refugee camp on Chios Island in Greece on 16 and 17 November. According to first-hand accounts, the attackers threw Molotov cocktails and large rocks the "size of a football", from elevated areas surrounding the Souda camp.
Close to 100 refugees, including women and children were forced to spend the night in the cold after their tents were destroyed, according to the UN's refugee agency (UNHCR). "Families are so scared that they prefer not to return to the camp, although they don't have any other accommodation," Roland Schoenbauer, spokesman for UNHCR Greece, told Al Jazeera.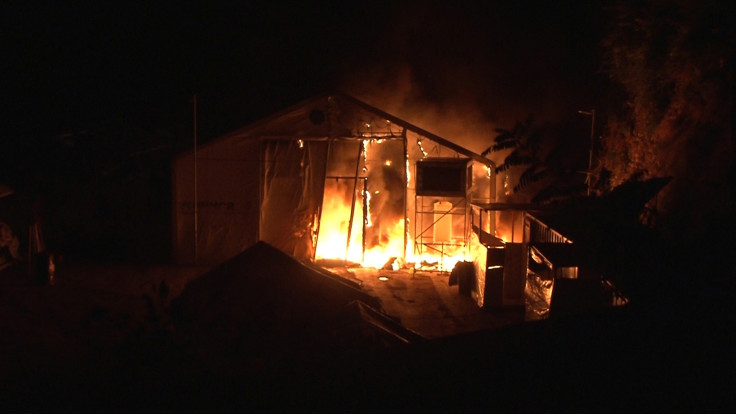 "It was just pure luck that no child was hit in the head by these massive stones, because that would had been most likely deadly," Claire Whelan, a Chios-based protection and advocacy adviser for the Norwegian Refugee Council added.
A 42-year-old Syrian man was assaulted while a Nigerian boy was injured with a rock. "We do not have any kind of protection," Mostafa al-Khatib, a Syrian refugee, told the Guardian. "No one cares about us."
Manolis Vournous, the mayor of Chios suspected that the perpetrators were members of a far-right group called the Golden Dawn. "Of course Golden Dawn supporters are suspected to have participated," he said, adding that the conflict many have started after a group of refugees stole alcohol and fireworks from a shop. Activists, however, believe that the attack was planned on the back of a visit by a team of MPs from the neo-fascist group far-right parliamentarians from Belgium.
Greece has been dealing with a severe migrant crisis after it opened its doors to those seeking asylum from war-torn countries. But after countries in Europe decided to close its doors to new refugees, many of them have been stranded on various Greek islands, pending deportation. Chios alone has approximately 2000 migrants.