South Africa: Author Zainub Priya Dala hit in face with brick for praising Salman Rushdie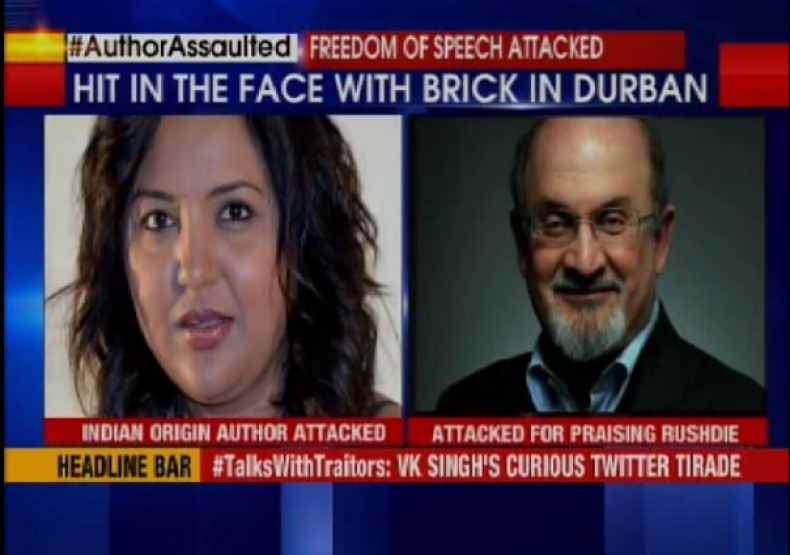 A South African author of Indian origin has been attacked and severely beaten by an angry mob after she praised British Indian novelist Salman Rushdie, who has often been accused of being blasphemous against Islam.
Zainub Priya Dala was hit in the face with a brick and called "Rushdie's bitch" by a group of attackers one day after she praised Rushdie at a writer festival she was attending in Durban, KwaZulu-Natal province.
Dala's publisher, Fourie Botha of Penguin Random House, explained to South Africa's Independent Online (IOL) that during the festival, Dala was asked which writers she admired.
"She said she liked Salman Rushdie's literary style, along with other writers such as Arundhati Roy. A group of teachers and pupils left the forum," Botha said.
The same day she made the comment, Dala wrote on her Facebook that she was saddened to see the teachers and pupils leave.
"My response was that I enjoy some of the works of Salman Rushdie as a creative agent, whose artistic words I admire. My statement was no reflection on his controversial, religious slant. I was very saddened that you walked out so publicly."
The day after the comment, Dala was followed from the festival to the hotel and was harassed by three men in a vehicle who pushed her car off the road.
"When she stopped, two of the men approached her car, one holding a knife to her throat and the other hitting her in the face with a brick while calling her 'Rushdie's bitch,'" Botha said and added that Dala is recovering at home as she had to abandon the launch of her novel What About Meera?
Police are investigating the attack. Rushdie himself condemned the attack on Twitter.
Rushdie's novel The Satanic Verses sparked outrage in several countries when it was published in 1988 as conservative Muslims said the book, which followed the story of two Indian actors of Muslim background, was blasphemous towards Islam.
The then Iranian leader Ayatollah Khomeini also issued a fatwa, or religious edict, calling for Rushdie's assassination. Rushdie survived several assassination attempts and has been living in the US since 2000.