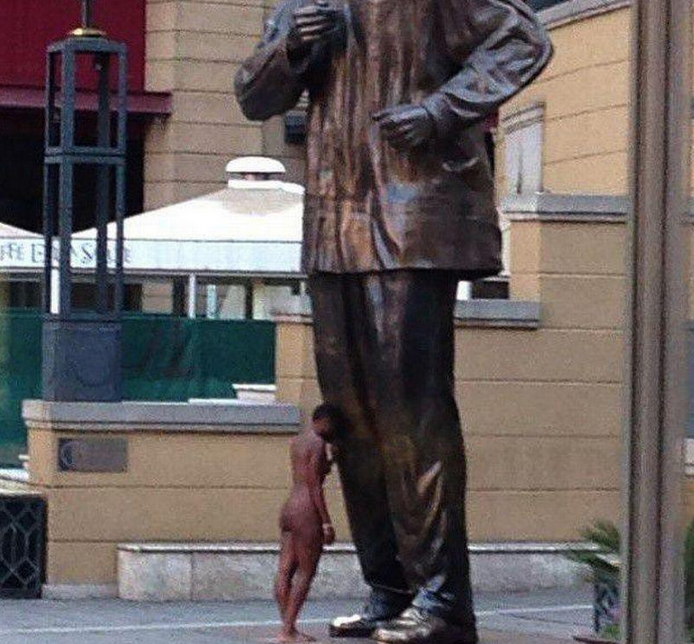 A woman has caught the attention of hundreds of South Africans after she stripped naked and caressed a statue of Nelson Mandela in Sandton, Johannesburg.
The woman, whose identity is not known, walked to Nelson Mandela Square before taking off her clothes in front of an astonished crowd.
Mandela, who died in 2013, was the president of South Africa from 1991 till 1994.
He is seen by many as the promoter of tolerance between the white and black communities in South Africa, as he played a key role in ending the racial segregation system known as Apartheid, enforced in the country in 1948.
Sandton City and Nelson Mandela Square regional marketing manager Megan Meas confirmed the incident.
"This was an unauthorised incident conducted by a private citizen in her personal capacity on our property," she told the Star newspaper.
Many people vented their outrage on social media, with some condemning the woman for her "distasteful" act.
Others commented on the woman's body.
Khotso Tladi, a chef at Baglios, a restaurant in the square, told the Star, "She didn't have a nice body, everything was saggy and she had hair."
Other people, however, admired the woman for her courage and dubbed her "Braveheart".
Commenting on the possible reasons that led the woman to strip naked in the square, South African blogger Milisuthando Bongela said her gesture is "a comment on how commoditised the image of Mandela has become.
"[The statue] towers over a mall, a mall whose shops consist of celebrating the success of international brands and globalisation that impedes our own development. Her body and statement are beautiful and brave. Thank you mystery Braveheart."