South African 'Prophet of Doom' investigated after spraying congregation with insecticide
The self-proclaimed prophet Lethebo Rabalago told followers the spray can heal people of HIV.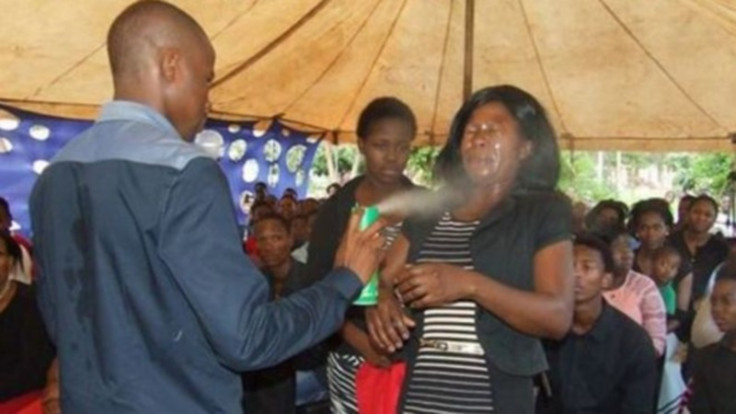 A controversial South Africa pastor dubbed the 'Prophet of Doom' is being investigated after he sprayed his followers with an insecticide, according to reports on Monday (21 November).
Self-proclaimed prophet Lethebo Rabalago, who practices in Limpopo province, claims a pesticide called 'Doom' can heal people of life-threatening illnesses.
Rabalago, who leads the Mount Zion General Assembly in the province, in the far north of the country, posted a number of images on Facebook that showed him spraying the substance in the faces of his congregation.
He said in one post: "Doom is just a name but when you speak to it to become a healing product it does. People get healed and delivered through doom. It's not by might nor by power' but by the HolySpirit. We give God the glory!!"
Rabalago claims that the spray can heal cancer and HIV but the company that produces the product has warned Rabalago publicly of the risks of spraying the insecticide. Tiger Brands say that the insecticide is for killing "specific insects" only.
The BBC reported that a government commission has urged anyone affected to make complaints to them. They add that the commission will also investigate the motives behind the practices.
In some images, Rabalago is seen spraying the insecticide directly into the eyes and body parts of his congregation. In a number of testimonies posted to the Facebook page, some claim that the practice has helped them.
Tiger Brands said of the practice: "[We] want to make very clear that it is unsafe to spray Doom or any aerosol onto people's faces. Doom has been formulated to kill specific insects which are detailed on the cans, and the packaging has very clear warnings which must be adhered to."
The company added that they have tried to contact the pastor to ask him to stop the practice.
South Africa's Commission for the Promotion and Protection of Cultural, Religious and Linguistic Communities said Rabalago's actions were "detrimental". "The CRL Rights Commission encourages everyone whose rights and beliefs have been violated to report such to the Commission," they said.
In in 2014 Lesego Daniel of the Rabboni Ministries posted images on the church's website showing followers eating grass and flowers.
Then in 2015, Penuel Mnguni of the End Times Disciples Ministries fed his followers snakes and rats, which they claimed had been turned into chocolate
© Copyright IBTimes 2023. All rights reserved.