South African President Jacob Zuma ruffled a lot of feathers on Thursday (30 March), announcing a major cabinet reshuffle with 20 new appointments. These were led by the highly criticised firing of Finance Minister Pravin Gordhan along with other senior officials.
The move is being seen as Zuma's efforts to gain more power over his government and control the choice of his successor.
Gordhan was recognised internationally as a respected finance minister who stood up against the president's plans for looser fiscal policy and radical redistribution of wealth. He has been replaced by former Home Affairs Minister Malusi Gigaba, a known Zuma ally.
The re-shuffle, which took place late Thursday, immediately caused the value of the Rand to plummet by nearly 5% as domestic and international investors voiced concerns over Zuma's growing control over the country's purse strings. The 74-year-old leader's term in office has been riddled with corruption scandals.
"Market reaction to the cabinet reshuffle and what looks to have been a clean sweep of the Treasury top team is going to be a significant negative," Razia Khan, chief Africa economist at Standard Chartered Plc told Bloomberg. "Given past volatility in the rand when a cabinet reshuffle was even suggested, the expectation is that the impact may be more pronounced now."
However, the president defended his actions, stating that they were made in order to improve efficiency and effectiveness. "I have directed the new ministers and deputy ministers to work tirelessly with their colleagues to bring about radical socio-economic transformation," he said in an official statement, adding that he had instructed the new entrants to ensure that the "promise of a better life for the poor and the working class" becomes a reality.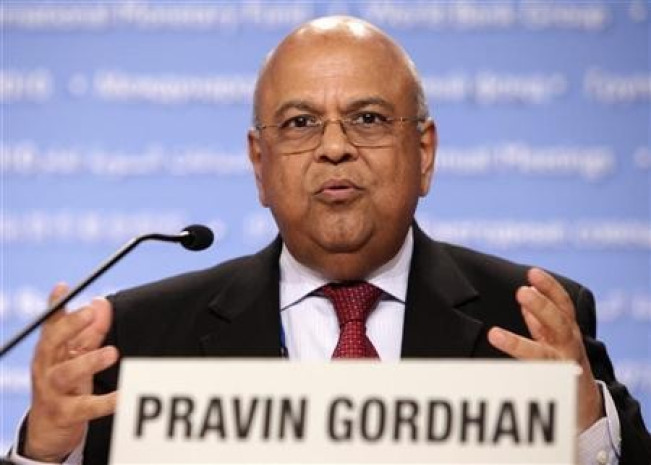 The ruling African National Congress (ANC) party reacted sharply to the dismissal of Gordhan, and supporters of the former finance minister are expected to use this development to attempt to oust Zuma from power ahead of party elections in December.
"They are unlikely to succeed, meaning Zuma's faction will retain control of the ANC," the Eurasia consultancy said, according to The Guardian. "Longer-term, the ANC will have a hard time recovering from this period of intense instability."
An ally of the ANC, the South African Communist party of which Gordhan is a senior member, voiced objections when rumours of plans to fire Gordhan first made the rounds. Opposition party, the Democratic Alliance also criticised the president's decision and said that it would call for a vote of no-confidence in President Zuma in parliament.