South Korea has called for North Korea to be suspended from the United Nations for using chemical weapons to assassinate Kim Jong-nam.
The country's foreign minister warned UN members that the assassination of North Korean leader Kim Jong-un's half-brother should serve as a "wake-up call" and that the international community should act to prevent the communist country from using its "thousands of tonnes of chemical weapons".
The warning was issued as Malaysia announced on 28 February that the two female assassins caught on CCTV wiping VX nerve agent on Kim Jong-nam's face would be charged with murder. Both women face the death penalty if found guilty.
South Korea's foreign minister Yun Byung-se said at the UN Disarmament Conference on 28 February that the assassination sent a "very clear message" to the world, Reuters reports.
"Namely this impulsive, unpredictable, trigger-happy and brutal regime is ready and willing to strike anyone, anytime, anywhere," Yun told the conference in Geneva.
He warned that North Korea is in possession of "not just grams but thousands of tonnes of chemical weapons, including VX."
"The recent assassination is a wake-up call to all of us to North Korea's chemical weapons capability and its intent to actually use them."
Yun said UN member states could invoke the Chemical Weapons Convention treaty and take "collective measures" once the Malaysian government releases the results of its investigation into the airport attack.
"It could take the form of suspension of North Korea's rights and privileges as a U.N. member," he suggested.
North Korean diplomat Ju Yong Choi responded angrily to Yun's comments: "North Korea totally rejects the despicable, irresponsible, impertinent and illogical remarks made by South Korea," he told the conference. He said that North Korea "has never produced or stockpiled or used chemical weapons", adding "our position is clear."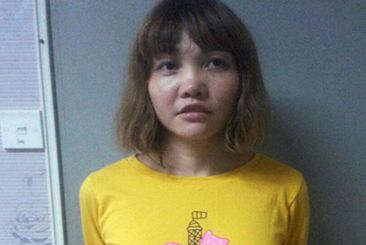 A delegation arrived in Kuala Lumpur today (27 February) to retrieve Kim Jong-nam's body. A North Korean diplomat said he hoped to restore "friendly relations" between the two countries, after the Malaysian tourism minister told citizens to stay clear of "rogue" North Korea.
Malaysian prosecutors announced on 27 February that the two female suspects accused of killing Kim Jong-nam with nerve agent VX will be charged with his murder. One of the female suspects, Indonesian national Siti Aisyah, told Malaysian police that she was paid the equivalent of £72 to carry out what she believed to be a 'baby oil' prank for a TV show.