Suspected killer of Kim Jong-nam, Siti Aisyah, told police she was paid the equivalent of £72 for what she thought was a 'baby oil' prank for a TV show. Malaysian investigators believe that the 25-year-old Indonesian masseuse was recruited to assassinate North Korean leader Kim Jong-un's half-brother.
Andreano Erwin, Indonesian deputy ambassador to Malaysia was permitted to spend 30 minutes with Aisyah on Saturday (25 February). He said the woman told him she was "hired" by two men who she named as James and Chan who "looked like Korean or Japanese" to carry out the stunt.
"Siti Aisyah is in healthy condition," Andreano told the Star, adding that they were waiting for information from Malaysian police.
Aisyah said she did not want her parents to see her held under police arrest.
"She doesn't want her family (to) get sad to see her condition," Erwin said. "She only delivered a message through us to her father and mother not to be worried and take care of their health."
The suspect was arrested with Doan Thi Huong from Vietnam, and is described by police as an "entertainment" worker. Both suspects have protested their innocence, saying they were duped into thinking they were taking part in a prank for a TV show. Aisayah claims that she did not know her alleged accomplice.
What is 'VX'?
The nerve agent VX is a tasteless and odourless amber liquid that disrupts with the body's nervous system.
It is more lethal to humans than the infamous poison sarin: just 10mg coming into contact with an adult's skin is enough to kill them.
The UN classes VX as a weapon of mass destruction, and limited countries to producing and storing 100g each year under the 1993 Chemical Weapons Convention.
North Korea is one of four countries which did not sign the Convention.
Source: Wikipedia
Malaysian police have refuted their claims, as the women must have taken precautions so the VX nerve agent used to kill Jong-nam would not kill them. According to officials, the attackers were trained to go immediately to the bathroom and wash their hands.
An antidote, atropine, can be injected after exposure to the nerve agent. It is carried by medics in war zones where weapons of mass destruction are suspected of being used.
Kuala Lumpur delegates have formally requested permission to interview a diplomat at the North Korean embassy in the capital city, according to the Times.
"We have sent a letter to him," Inspector-General Khalid Abu Bakar said. "We will wait for him. If he comes, it's OK, but if he doesn't, the due process of the law will take over."
Lawyer Sankara Nair, explained that diplomats have immunity from arrest and criminal charges.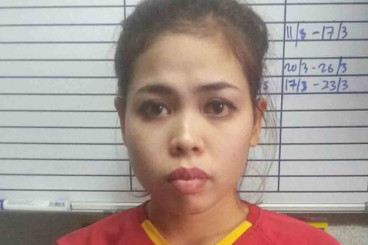 "If he is a Korean diplomat with a diplomatic passport, then he has immunity no matter a criminal case or otherwise," he said in an AP report. "Police can apply for a warrant, but it can easily be set aside by the embassy."
A relative of Kim Jong-nam will identify and claim his body, a senior police official said.
Experts say the VX nerve agent, suspected of being used in the slaying of Kim Jong-nam, was almost certainly produced in a state weapons laboratory and is banned under an international treaty.
Malaysian police, are currently checking the airport terminal where Kim Jong Nam was killed for possible toxic chemicals.