Malaysian police on Wednesday (22 February) announced two more suspects in the Kim Jong-nam assassination, one of whom is a senior official in the ranks of second secretary in the North Korean embassy.
Police chief Khalid Abu Bakar told reporters at a news conference that the other suspect was linked to North Korean airline Air Koryo and both the suspects are believed to still be in Malaysia.
The North Korean embassy official was identified as Hyon Kwang Song, 44; and the airline employee as Kim Uk Il.
"We have requested assistance from the North Korean embassy here as we strongly believe the duo are still in the country," Khalid said, adding that they are yet to get any assistance from the North Korean embassy.
"We will not hesitate to issue arrest warrants on the duo if no cooperation is given," he added, according to New Straits Times.
Malaysian police already have two prime suspects, both females, in their custody in connection with the murder — Indonesian national Siti Aisyah and Vietnamese Doan Thi Huong. They have also arrested two men — a North Korean identified as Ri Jong Chol, and another identified as Aisyah's boyfriend.
Khalid reportedly said they are looking for a total of seven suspects in the case, of which three are believed to be in Malaysia while four others are believed to have fled the country following the killing of North Korean leader Kim Jong-un's half-brother on 13 February at Kuala Lumpur airport.
The police chief said they "strongly believed" the four suspects who had fled had arrived in Pyongyang, Reuters wrote. He reportedly added that the third suspect believed to be in Malaysia is Ri Ji U, 30, also known as James.
The Associated Press quoted the police chief as saying that the two arrested female suspects were trained to wipe toxin on the target's face. Although two post-mortems conducted on Kim's body could not establish the actual cause of death, police believe he was killed by poison sprayed on his face.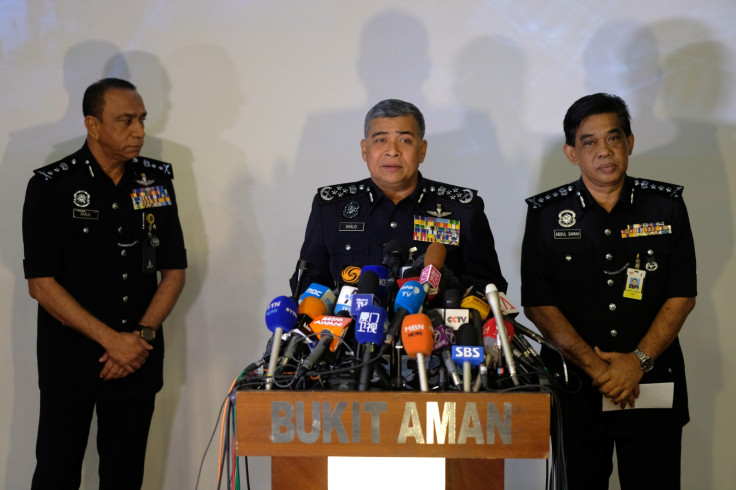 At the time of the killing, the North Korean suspects placed the toxin on the hands of the two women, Khalid said. The North Korean suspect who gave them the toxin is in custody, he added. Three of the two suspects believed to be in Malaysia are the embassy official and the airline employee, he explained.
Meanwhile, Strait Times reported that Malaysian police will seek to extend the remand of both the female suspects as their remand order expires on Wednesday. However, Khalid said they will release Muhammad Farid Jalaluddin, Aisyah's boyfriend, on police bond.