South Korea Ferry Sinking: Sewol Disaster Magnate Yoo Byung-un Home Raided by Police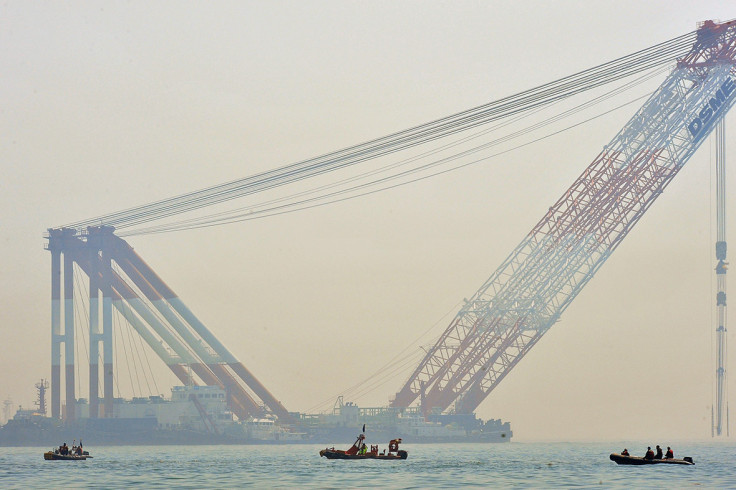 Police have raided the home of the owner of the ferry which sunk in South Korea, killing dozens of people.
Officials swooped on a house belonging to Yoo Byung-un, 73, after it emerged the shipping magnate once spent time in prison for fraud and was later declared bankrupt during the 1990s.
He even compared his experience of going bust with a captain going down with his ship during an interview in the late 1990s.
A spokesman said the police raid on Yoo's home was part of an investigation into "overall corruption in management" at Chonghaejin Marine Co, which Yoo owns with his two sons.
Since the Sewol ferry sank on 16 April more than 70 senior employees at Chonghaejin have been issued with travel bans lasting 30 days, while police investigate whether negligence or corruption played a part in the sinking.
According to Reuters, financial investigators in South Korea are probing whether illegal foreign exchange deals took place at the company, or were carried out by Yoo and his relatives. The news agency also reports his family is being investigated over suspicions of tax evasion.
However is no suggestion the history of the firm played a role in the disaster.
More than 140 people have so far been confirmed dead in the sinking of the ferry, during a routine trip between Seoul and Jeju.
On board the ship when it went down were 476 passengers, of whom 339 were children and teachers on a school trip. Rescuers have saved 174 people from the freezing waters, with the remaining passengers feared drowned.
Should the fears prove correct, it would make the Sewol sinking South Korea's worst maritime disaster for 21 years.
'If the ship sinks, you swim alone'
Yoo Byung-un belongs to a generation of South Koreans were helped transform the country into a global power, before going bust in 1997. He was jailed during the early 1990s for a conspiracy to defraud $1.15m.
In a 1999 interview with monthly magazine Chosun, Yoo said: "I had thought if you are CEO, it's like you're the captain of a ship. You are bound together and share your fate with the ship until she goes down.
"But I realised, as the ship sank, there are people who can swim it through so well ahead of others and be saved."
© Copyright IBTimes 2023. All rights reserved.