South Koreans have gone to the polls in a closely watched election after Park Guen-hye was brought down and indicted in the country's biggest ever corruption scandal.
Voters are deciding between 13 different candidates to be South Korea's next leader, but the impact of the election will have consequences far beyond the domestic level as relationships with North Korea, China and the United States will all come into play.
Left-leaning Moon Jae-in is the clear favourite – vowing to tackle the inequality, slow growth and unemployment, which became a focal point in the context of Park's alleged wrongdoing – but his views on the North could spark tensions on the international level.
Moon has indicated he wants a closer relationship with Pyongyang, in spite of repeated nuclear and missile tests, stating that increased dialogue was the key to bringing North Korea back into the fold.
He is also seen to favour more independence from the US, which houses 28,500 troops in the country and is South Korea's sole protector.
South Koreans should not "take the back seat," Moon said in a recent interview, reported AFP, and said that Seoul needs to "take the lead on matters in the Korean peninsula".
On China, Moon has pledged to raise pollution concerns, which have become a big domestic issue, but one that is likely to antagonise the republic.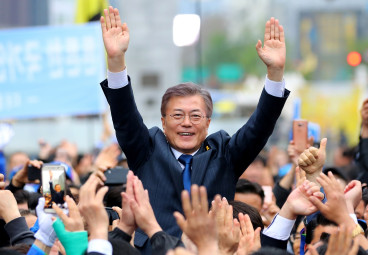 China is also South Korea's biggest trading partner and plays a key role in the handling of North Korea.
However, many of these issues are secondary to South Korean voters, with Moon enjoying a 38% backing in the latest Gallup poll.
Many are frustrated at the cosy relationship between the government and powerful family-run conglomerates, as displayed in the Park affair, while much of the country suffers.
Park is awaiting trial for offering government favours to top businessmen, such as Samsung's Lee Jae-yong, who paid vast sums of money to her confidante, Choi Soon-sil.
Former tech mogul Ahn Cheol-soo is Moon's closest contender, polling at 20% according to Gallup. Hong Joon-pyo, of Park's Liberty Korea party, lies in third place with 16% support.