South Korea held a top-level emergency security meeting after North Korea fired a submarine-based ballistic missile, ratcheting up tensions in the region. Seoul's presidential office Cheong Wa Dae convened the National Security Council shortly after Pyongyang test-fired a submarine-launched ballistic missile (SLBM).
The South Korean foreign ministry said such defiant acts by Pyongyang will only hasten the collapse of the Kim Jong-un regime. In a strongly worded statement, the ministry said: "If North Korea continues to seek the sophistication of its nuclear and missile capabilities without paying attention to the hardship facing its people, it will only worsen international sanctions and isolation, hastening the country's self-destruction."
On Wednesday (24 August), the North launched a ballistic missile, which flew about 500km before landing in Japan's air defence identification zone in the waters of the Sea of Japan or the East Sea. This distance is the longest-ever covered from a submarine-based launch by Pyongyang and will potentially put most parts of South Korea within its striking range. The missile did not damage any of Japan's aircraft or vessels stationed in the region.
Kim's regime fired at least two submarine-based missiles earlier this year but both exploded mid-air. Missiles fired from underneath the water are a significant development for North Korea since such launches are harder to detect well ahead. A variety of land-based missiles in North Korea's existing arsenal are already capable of reaching South Korea and Japan.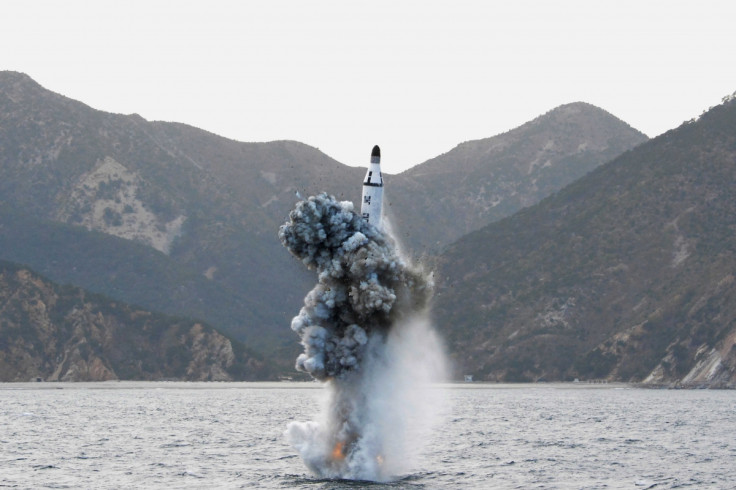 The latest launch has once again sent the Korean peninsula and neighbouring Japan into a flurry of activity as the countries are searching for a harsher response to the North's actions.
"This poses a grave threat to Japan's security, and is an unforgivable act that damages regional peace and stability markedly," Japan's Prime Minister Shinzo Abe told reporters from his residence. Tokyo's foreign ministry has also echoed the condemnation saying it has launched protests through diplomatic channels.
Hours prior to the missile launch, North Korea's ambassador to the United Nations (UN), Ja Song-nam, heaped scorn on the ongoing joint military exercise of South Korea and the US. Ja said the military drills have put the Korean peninsula on "the brink of war".