Chinese troops are set to be deployed in South Sudan to help UN peacekeepers in the war-torn region, marking the first time China's infantry will have participated in a UK mission.
Previous peacekeeping efforts have been aided by Chinese engineers, doctors and security guard corps, but this is the first for troops, the state-run news agency Xinhua reported.
The 700-strong infantry battalion, comprising 121 officers and 579 soldiers, was approved by President Xi Jinping and the Central Military Commission.
South Sudan conflict in numbers
Four million people at risk of famine
$1.8bn (£1bn) needed to assist conflict victims and refugees
1.1 million – 1.5 million people displaced
116,989 refugees fled to Uganda since 16 December (UNHCR, 24 June, 2014). Of these:
101,780 women and children (87%)
76,043 children under the age of 18 (65%)
10,000 people killed since December 2013 – UN estimate (June 2014). The International Crisis Group estimates that at least 50,000 people have been killed.
The South Sudan conflict erupted in December 2013 when President Salva Kiir, from the Dinka ethnic group, accused the then vice-president Riek Machar, of plotting to overthrow the regime.
The accusations sparked violence in the country where factions loyal to Kiir and Makar engaged in tit-for-tat violence that has claimed thousands of lives.
At least four million people are also at risk of a man-made famine, due to lack of funds and widespread fighting which has stopped volunteers getting to certain areas.
As the civil war entered its second year in December, human rights activists have warned the conflict is far from over and the country has experienced a "colossal loss of life".
On the anniversary of the country's civil war, activists published lists with the names of 10,000 casualties, which included "farmers, traders, men in uniform, including UN peacekeepers, but the majority of the victims on the list are civilians and young people, demonstrating that South Sudan has lost so much of its human capacity and potential".
UN secretary-general Ban Ki-moon said the crisis was "tragic and unacceptable" as he urged South Sudanese leaders to reach an agreement and end the fighting.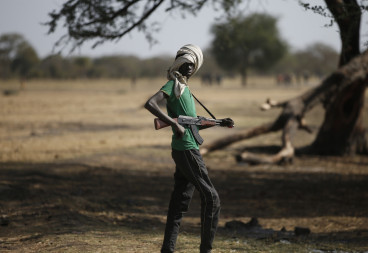 "The leaders of South Sudan have allowed their personal ambitions to jeopardise the future of an entire nation," the UN secretary-general said in a statement.
"The very premise of the country's independence struggle - a new beginning that was supposed to be founded on tolerance, good governance, accountability and unity - is disappearing before our eyes."
UNMISS, the UN mission in South Sudan, was created in July 2011, shortly after South Sudan seceded from Sudan and became independent.
As of December 2013, UNMISS comprised 5,884 civilian, 5,508 military, and 376 police personnel.