War-torn South Sudan needs $205m to cope with famine until July, but funds are lacking
IBTimes UK speaks with aid organisations as man-made famine threatens millions in world's newest nation.
War-torn South Sudan needs $205m ( £164m) to cope until July with a man-made famine, the World Food Programme (WFP) has told IBTimes UK. At least 100,000 people are facing starvation in Unity State – in the upper Nile region – and millions across the country are affected by food insecurity.
This is the first time that a famine has been declared in any part of the world in six years.
"With many other areas of the country on the brink of a hunger catastrophe, we need to scale up support to families and maintain regular and consistent assistance for them," Challiss McDonough, senior regional spokesperson for WFP in Kenya said.
"But WFP is extremely concerned that we do not have enough resources to continue this response for the whole year. Without a substantial injection of funds, we could run out of food by end of June."
Fears that lack of funds might hinder an appropriate response resonates with other humanitarian organisations on the ground.
"The situation facing children who were already hungry and going without meals is now rapidly unravelling. If aid funding and deliveries are not immediately scaled up we should expect to see children facing a catastrophe and starvation and migration to find food on a massive scale". Perry Mansfield, National Director for World Vision in South Sudan, told IBTimes UK.
"The rainy season is only weeks away and once that arrives the roads become impassable meaning that millions of people will be cut off from aid. We have a small and rapidly closing window of opportunity to get food into these remote areas, to preposition it, before it is too late," he continued.
Civil war blamed for famine
The South Sudan conflict erupted in 2013 when President Salva Kiir, of the Dinka ethnic group, fired his deputy Riek Machar, who then became a rebel leader, from the Nuer group.
Ethnic-related violence targeting Dinka and Nuer has killed an estimated 50,000 people, amid allegations of crimes against humanity committed by both sides, including rape, torture and the use of child soldiers.
At least 1.5m people have fled to other countries. The exodus has been deemed "Africa's worst refugee crisis".
More than 2m are internally displaced as the country is on the verge of a Rwanda-style genocide.
People are fleeing violence leaving their crops to rot in the fields. In addition, the heavy rainy season has made some roads inaccessible hindering food deliverance.
Many fear hunger will deepen as the conflict has spilled into the Equatoria region, considered one of South Sudan's breadbaskets.
The UN has now appealed for $1.6 bn (£1.2bn) to provide life-saving assistance and protection to 5.8 million people across the country.
"WFP's severe resourcing shortfalls extend to neighbouring countries where South Sudanese refugees have sought shelter in the last three years," McDonough said. She added that the $205m will cover just the humanitarian response in South Sudan, while more funds are needed to help refugees.
Kiir and Machar have agreed on several peace deals – the last of which was signed in August 2015 – but have failed to control their troops, who have broken every ceasefire since 2014.
Machar fled South Sudan following deadly fighting in the capital Juba in July 2016.
IBTimes UK's exclusive interview with Machar:
He is currently in South Africa seeking medical treatment, but in an exclusive talk with IBTimes UK said he was ready "to go home".
His wife, Angelina Teny, also a member of SPLM-IO, told IBTimes UK she believes her husband can contribute to achieving peace in the war-torn nation which is on the verge of a Rwanda-style genocide.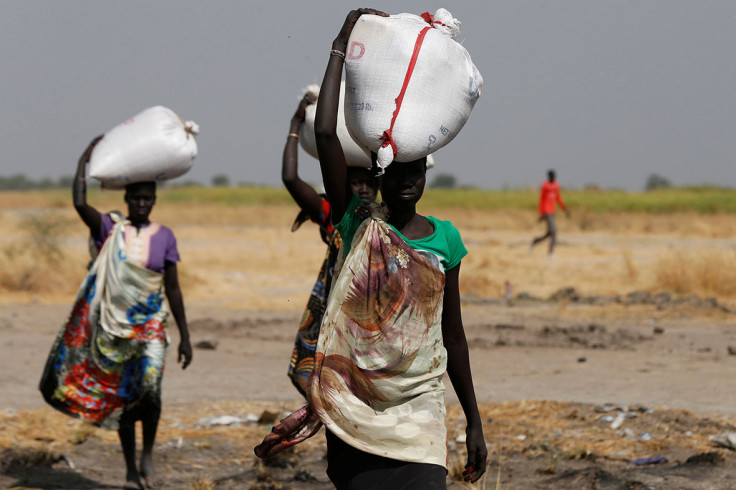 © Copyright IBTimes 2023. All rights reserved.