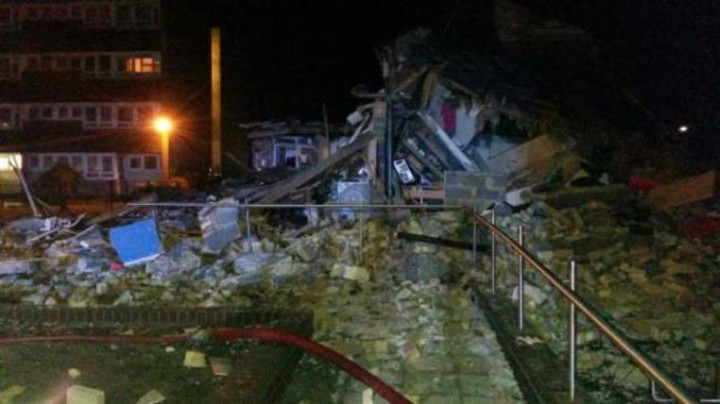 A father and his four-year-old daughter were "miraculously" pulled from the wreckage of their collapsed Southampton home after an explosion devastated the two-storey property.
Firefighters were called to the home in Howards Grove, Shirley, Southampton, at 0130 GMT after a large explosion tore through the property.
Neighbours helped pull the 36-year-old father and his daughter to safety before Hampshire Fire and Rescue Service arrived at the collapsed home.
Neighbours were evacuated from their homes in the aftermath of the damage and Engineers from the gas board and Southampton City Council were also called to investigate the cause of the explosion.
A spokesman for the brigade said it had received dozens of calls following explosion.
"Crews from St Mary's and Redbridge arrived to find the two-storey, end-of-terrace property completely collapsed but with the residents thankfully safely out," he said.
"The father and daughter were taken to hospital as a precaution but are not thought to have been seriously injured."
Station manager Steve Buchanan-Lee said: "The fact both of them escaped relatively unharmed is nothing short of a miracle.
"The explosion appears to have been caused by gas and reduced the whole property to rubble."