Southern rail strikes: Union bosses call for direct talks with Chris Grayling
General secretaries Mick Cash and Mick Wheelan say they want to meet the senior Conservatives.
The trade union bosses behind crippling strikes on Southern rail have reached out to Chris Grayling in a bid to hold direct talks with the transport secretary.
RMT chief Mick Cash and Aslef boss Mick Whelan have written to the senior Conservative ahead of fresh walkouts from drivers and conductors on 10 January.
The general secretaries are opposed to a modernisation plan on Southern rail, operated by Govia Thameslink Railway, which would see driver-only operations (DOO).
The transport unions claim commuters' safety could be put at risk because drivers would be forced to use CCTV cameras to close and shut doors, rather than relying on a rail guards.
"You will know that the current trade dispute has been caused by Southern Rail's imposition of DOO without any agreement and, as such, your offer to meet does not provide a rationale for my union to call off next week's strike," Whelan said. "Nonetheless, I remain willing to meet you at any time."
Cash added: "I am happy to meet with you so that we can discuss these pressing matters. Do contact my office to arrange a meeting at your earliest convenience."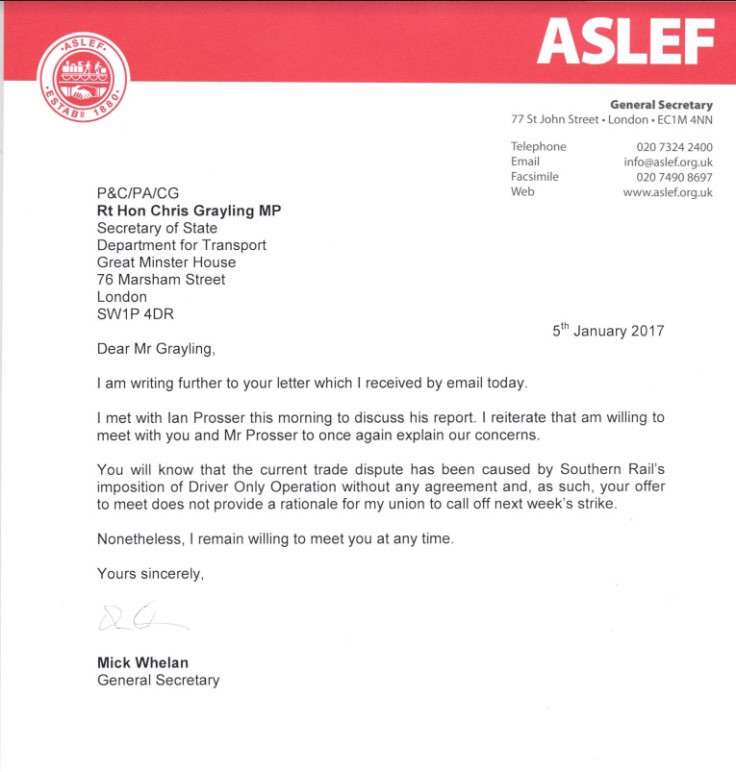 The correspondence comes after rail watchdog the Office for Rail and Road (ORR) found that DOO trains are fundamentally safe. But the report also warned that some stations on the Southern network are too dark for drivers to be able to operate train doors safely.
The watchdog gave Southern the green light to introduce DOO trains across the network on the condition that additional staff will be on hand to operate doors at stations which do not meet visibility standards.
They have also told the operator to improve the quality of the CCTV images used by drivers.
"ORR is satisfied that with suitable equipment, proper procedures and competent staff in place, it is a safe method of working," said Ian Prosser, the chief inspector of railways.
Charles Horton, chief executive of GTR, said: "We warmly welcome their robust report which confirms that our roll-out programme is safe... The RMT and Aslef are being wholly unreasonable and they are abusing their trade union powers to call strikes."
RMT typically represent conductors on the franchise, while Aslef represent train drivers. Joint action from the unions in December saw 300,000 commuters face travel chaos.
The unions and Southern bosses held talks at mediation service Acas on Tuesday, but the negotiations adjourned without a resolution to the dispute.
Grayling told MPs in December that Aslef had turned down an offer to hold direct talks, while the union claimed the transport secretary would only meet on the condition that they called off their strike action.
"The unions appear to have little interest in resolving the dispute unless the management cave in totally to their demands," Grayling said.
UPDATE (20:59 GMT): The Department for Transport has issued a statement.
"In an effort to find a resolution to the on-going dispute over the roll out of services where drivers operate train doors on the Southern Rail network the Secretary of State reiterated his offer of talks to the RMT and ASLEF union leaders," a spokesperson said.
"He is happy to discuss with them the current dispute and how to provide the best possible future and working environment.
"He asked them both, as a show of good faith, to suspend their action to give time for meaningful talks. Aslef has refused to and the RMT has not indicated that it will call off the strike."
Southern train-driver strike dates
Tuesday 10 January
Wednesday 11 January
Friday 13 January
Tuesday 24 January
Wednesday 25 January
Friday 27 January
© Copyright IBTimes 2023. All rights reserved.