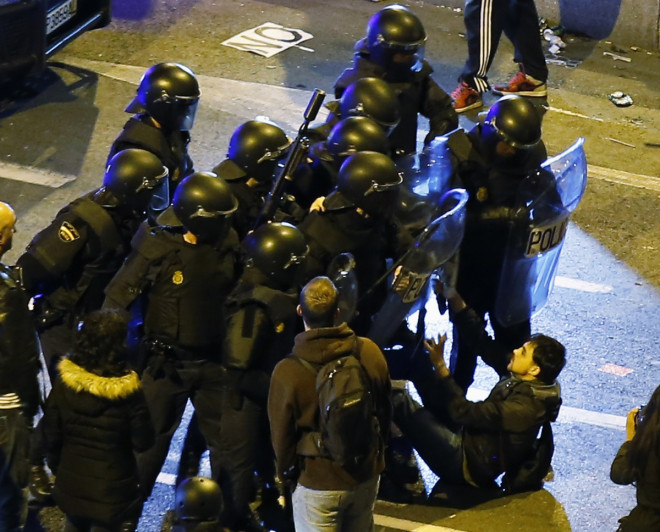 Violence flared in Madrid on Saturday as hundreds of thousands of Spaniards took to the streets to protest against poverty and EU-imposed austerity.
Demonstrators threw stones and bottles at riot police and attacked cash machines. The riot police responded by charging and firing rubber bullets, according to Reuters video footage. There were also reports of the police using tear gas to disperse the crowd.
"The mass rally was coming to an an end when reportedly a group of younger protesters, who had masks on their faces, started throwing rocks at the police. Police tried to push them away from the parameter that they organized around this area," said RT's Egor Piskunov reporting from the Spanish capital.
"They (police) tried to push them (protesters) away from these police fences and then we started seeing firecrackers being thrown at police and reportedly authorities started firing rubber bullets at the protesters. As a result, there are injuries on both sides and several people have been arrested as well."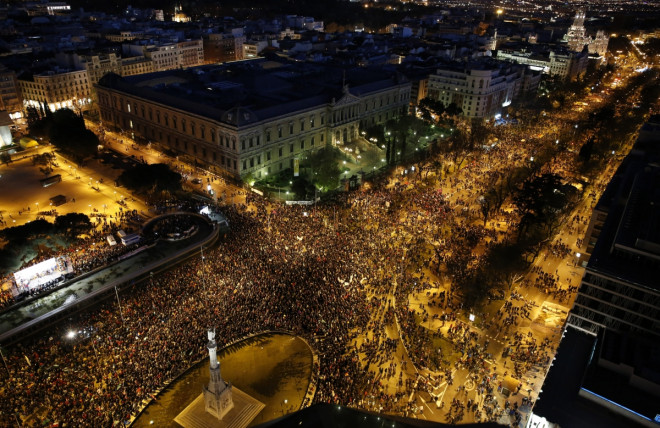 "I can confirm that there is very heavy police presence in this whole district. Since it is the centre of Madrid, there are lots of luxury hotels in this part of town and security here is very tight," he added.
Around 19 protesters were arrested and 50 police officers injured, one of them very seriously, said Cristina Cifuentes, a central government representative.
However, according to El Mundo, the figures were much higher, with police arresting at least 29 people and 101 people injured.
The "Dignity Marches" have brought many thousands of Spaniards to Madrid, travelling from all over Spain, some making their way on foot. They are protesting to draw attention to 160 different causes including jobs, housing, health, education, poverty and official corruption.
Banners supported the conservative government not to pay its international debts and to tackle Spain's 26% unemployment rate.
"Bread, jobs and housing for everyone", read one banner. "Corruption and robbery, Spain's trademark," said another.
According to the Organisation for Economic Co-operation and Development, the economic crisis has hit Spain's poor harder than in any other country in the European Union.
"I'm here to fight for my children's future," said Michael Nadeau, who was taking part in the protest. He told Sky News: "For those who are in power we're just numbers. They value money more than they value people."