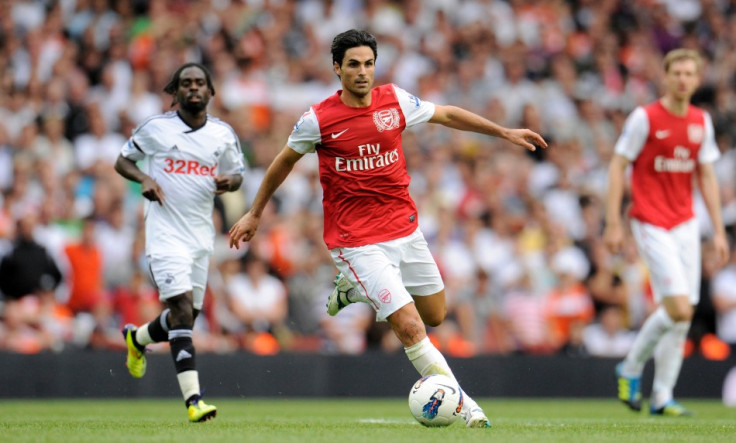 Mikel Arteta believes that he is doing all he can to shore up Arsenal's midfield, with the Spaniard hoping to assist on-fire striker Robin van Persie in the goal department as the Gunners climb their way back up the Premier League table.
Arteta took some time to find his feet at the Emirates, after making the move from Everton at almost literally the last minute of deadline day. The midfielder, who was thought to be a replacement for the outgoing Cesc Fabregas, joined just a day after the Gunners were defeated 8-2 by Manchester United in a demoralising loss for the entire club.
But Arteta looks to have been part of Arsenal's salvation, with the 29 year old assisiting in taking the club back from their most disappointing start to the season in over 50 years to boasting fifth position in the table and pushing close to fourth-placed rivals Tottenham.
And Arteta believes that his goal tally can continue to grow at Arsenal, with the star hoping to be as much help to van Persie as possible.
"I have scored five goals this season already, if you count my two for Everton in August, so I don't think things are going badly. if I can add to that then it can only help the team," Arteta told the Official Arsenal Matchday Programme.
"It depends on how the game is going and on our opponents.
"We need to make sure people other than Robin are scoring for us, after all!"
Arteta is keen to recapture his goal scoring ways, and after netting against Wigan at the start of the month, he's hoping to test the waters and find what suits within the Arsenal squad this season.
"I used to be quite good at that!" Arteta explained of his scoring capabilities. "I need to keep trying these things - sometimes we get space to move into when the forward players have attracted defenders to them, and we need to stay aware of that.
"We have players to score from that range and I was glad to do my bit."
Arsenal's win over Everton at the weekend continued the side's recent spell of top form, but this Sunday's clash with title leaders Manchester City will be the club's biggest test as they continue to push to challenge for trophies.
Easier fixtures follow for the north London side, with Aston Villa, Wolves and QPR before the new year, but their confidence going into January will depend on how the club perform against big-spending City this weekend.