Spanish Train Crash Driver 'Refusing to Answer Questions'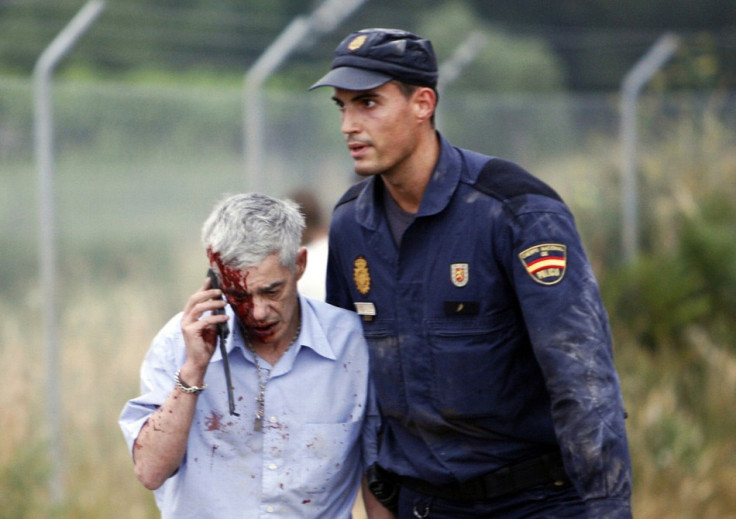 The driver of a high-speed train that derailed in Spain on Wednesday, killing 78 people, is refusing to answer police questions.
Francisco Jose Garzon Amo, 52, has been arrested on suspicion of reckless driving, and is under armed guard in hospital.
The case will now proceed to "judicial process", and Amo will answer questions from a judge in court when he has recovered from his injuries, said Spanish authorities.
The "black box" recording from the driver's cabin is being held by the judge in charge of the investigation.
The express train from Madrid to Ferrol on the Galician coast was carrying 218 passengers and four crew when it crashed near Santiago de Compostela on Wednesday night. Experts believe it could have been travelling at 118mph (190kph) - more than twice the 49mph (80kph) speed limit - when it crashed.
On Thursday, junior transport minister Rafael Catala confirmed that early indications suggested the train had been going too fast.
Gonzalo Ferre, president of the rail infrastructure company Adif, said the driver would have received automatic warnings to start slowing the train about 2.5 miles (4km) before the curve.
"Four kilometres before the accident happened he already had warnings that he had to begin slowing his speed, because as soon as he exits the tunnel he needs to be travelling at 80kph," Ferre said.
The president of railway firm Renfe, Julio Gomez Pomar, was quoted by El Mundo newspaper as saying the 52-year-old driver had 30 years' experience with the company and had been operating trains on the line for more than a year.
He said the train that derailed had no technical problems.
Adif, Spain's railway agency, confirmed that a high-tech automatic braking programme was installed on the track for most of the journey but stops just 3 miles (5km) south of where the crash occurred.
From that point on the driver has sole control of the brakes.
"Regardless of the system in place, the drivers know the speed limits. If these are respected, an accident should not take place," a spokeswoman said.
"Whatever speed the train was travelling at, the driver knows beforehand what lies ahead. ... There's no sudden change in which a driver finds out by surprise that he has to change speed."
However, colleagues of Amo spoke in his defence. "He's an excellent person, a really nice bloke. Everyone's talking about him speeding but normally an accident is not just caused by one thing," one told Spanish media.
Police earlier reduced the death toll from 80, after saying that human remains, which are being checked against DNA records in a makeshift morgue in a sports arena, had been incorrectly identified.
Of those killed, 72 have been formally identified, while DNA results for the remaining six are expected in the next few days.
One Briton was among the 178 injured in the crash.
Mark Woodward, 38, is recovering in hospital after being operated on for serious stomach injuries, his family told The Sun.
Six of the injured remain in a critical condition.
© Copyright IBTimes 2023. All rights reserved.