Is there really anyone who wouldn't want to step into Bond's polished shoes and perfectly tailored suit for a day?
The lasting appeal of 007 has been cultivated largely by the action, skill and sheer charm of the ever reinvented hero, but he would have been nothing without his impeccable sartorial prowess. Regardless of the clothes horse, from Sean Connery to Pierce Bosnan and beyond, Bond is the embodiment of good taste and Daniel Craig's fourth turn as the special agent is no different. Whether or not you love the man, it is guaranteed that you will want the wardrobe.
Spectre sees the 21st century 007 taking on a whole host of designers led once again by Tom Ford, who has been tailoring the suits for Craig since Quantum of Solace. Travelling light but luxuriously with globetrotter and driving around in John Varvatos jackets and N.Peal cashmere, the modern Bond is a man well versed in his brands.
We have broken down the key pieces featured in Spectre and where you can find them as well as a more affordable version for those of you don't have an MI6 account to put the bill onto.
THE TUX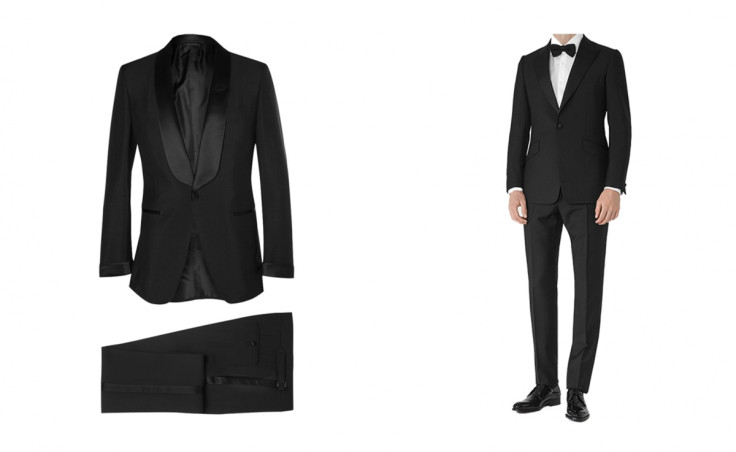 Sleek, sophisticated and an absolute necessity for Bond. A slim fit was preferred by Daniel Craig and Ford cuts close to the frame for an impeccable 007 silhouette. For a more affordable price but same cut head to Reiss for their fantastic Woll and mohair blend two pieces tux.
On Bond: Tom Ford, black slim-fit mohair and wool-blend tuxedo, £3,280 ($5,068), Mr Porter (L)
On a Budget: Reiss, Mayfair peal lapel tuxedo in black, £450 ($695) (R)
THE WATCH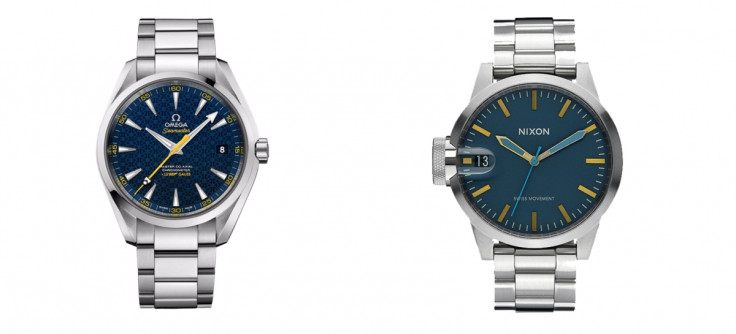 Bond has been in partnership with Omega and the Seamaster since GoldenEye in 1995 and the friendship has lasted. Fitted with detonators and satellite devices, 007's timepieces are a tad more personalised but the Seamaster Aqua Terra style is always the same. Nixon have a fantastic alternative for those who can do without their watch 300m underwater.
On Bond: Omega, Seamaster Aqua Terra James Bond men's bracelet watch, £4,630 ($7,155), Earnest Jones (L)
On Budget: Nixon, Chronicle 44 watch in navy/brass; £250 ($386) (R)
THE TURTLENECK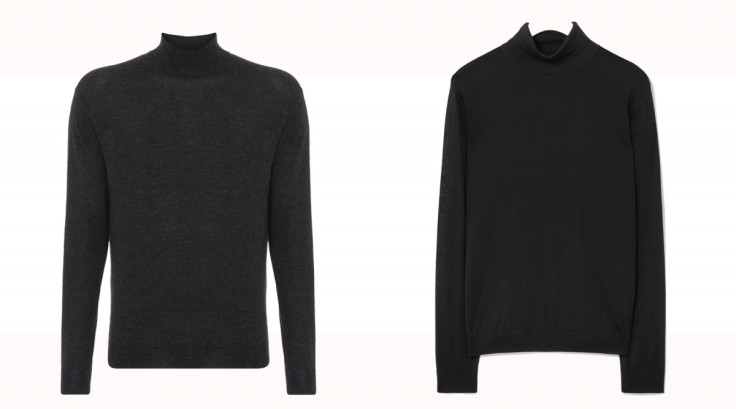 The movie teaser for Spectre saw Bond stepping away from the tux and looking sharp in an N.Peal mock turtleneck sweater crafted in silk and cashmere for the ultimate in lightweight luxury. As a key piece for AW15 there are plenty of turtlenecks around at the moment and Cos' merino wool roll-neck is superior substitute.
On Bond: N.Peal, mock turtle neck, £199 ($308) (L)
On a Budget: Cos, Merino roll-neck jumper, £55 ($85) (R)
THE SUNGLASSES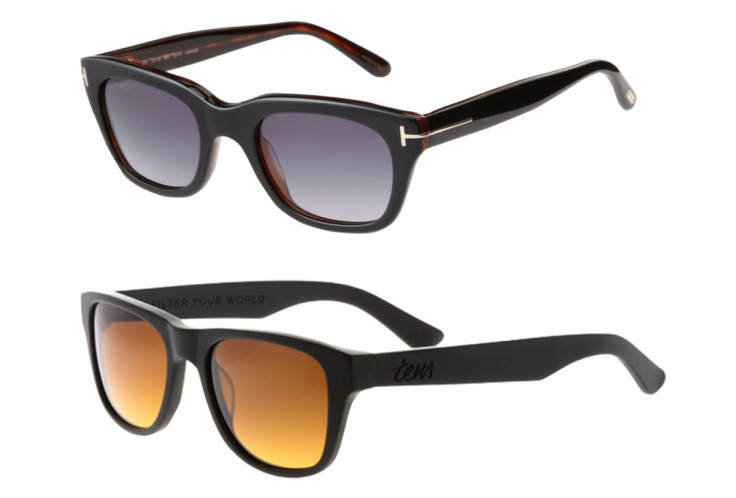 Bond will be wearing Tom Ford sunglasses for the third time running in Spectre; with a light smoke grey tinted lens they are perfect for everyday wear. However, Tens are a great alternative with specially developed lenses that have been dubbed as Instagram filters for your eyes.
On Bond: Tom Ford, Snowden sunglasses in tortoise, £134 ($207), Amazon (L)
On a Budget: Tens, Classic & Compact sunglasses; £64 ($99) (R)
THE OUTDOOR JACKET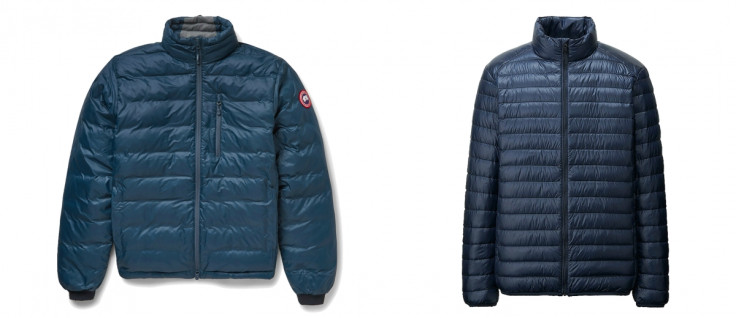 Spotted on Craig during the Spectre photocall, Canada Goose is seemingly a new favourite of special agent Bond off-set, engineered to keep you warm in -15 degrees, the windproof, waterproof jacket is as robust as the man himself. To get the same look in a slightly less dangerous climate, Uniqlo's Water Defender down jacket is perfect with windbreaking and waterproofing to match.
On Bond: Canada Goose, Lodge packaway quilted shell down jacket, £450 ($695), Mr Porter
On a Budget: Uniqlo, MEN ultra-light down jacket The Water Defender, £59.90 ($93)
THE SHOES

Crockett & Jones provided a number of styles for Spectre but the monk shoe is a classic design that is also popular with Tom Ford. The double buckle on the Camberley is a perfect example of traditional style for a modern Bond. ASOS does a great monk style of its own for only £45.
On Bond: Crockett & Jones, Camberley monk shoes in black calf; £460 ($711) (L)
On a Budget: ASOS, Monk shoes in black leather; £45 ($70) (R)
THE GLOVES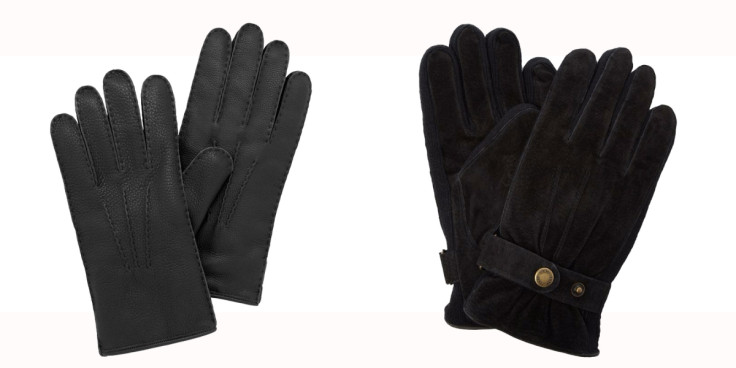 Spectre takes in many locations from the streets of Rome to the Alps, staying warm in traditional style, Bond is seen wearing Mulberry deerskin gloves that are lined with cashmere, however, you can keep just as warm in Dents men's casual suede gloves that are fully fleece lined.
On Bond: Mulberry, black deerskin day glove, £225 ($348)
On a Budget: Dents, casual suede glove, £24 ($38), House of Fraser
THE LUGGAGE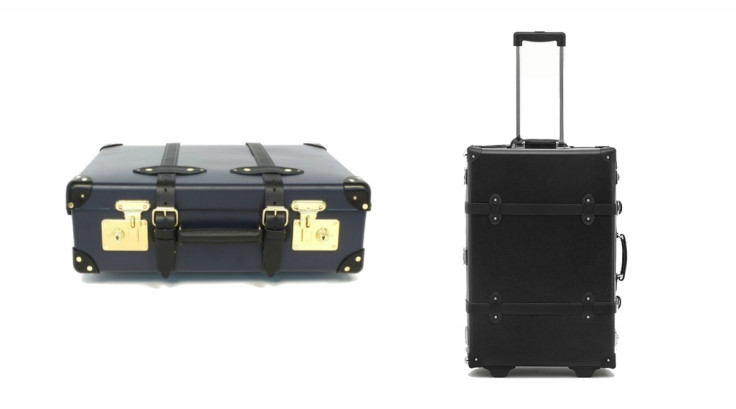 Globe-Trotter has partnered with Bond for the Spectre and Skyfall creating bespoke ranges for the film and fans of it. The Spectre collection sees the classic luggage reimagined in navy Vulcan fibre with black cow leather and gold hardware. To keep up the style without the price, Reiss' Gallivant trolley is a strong contender and remarkably similar to the luggage used by Bond in Skyfall.
On Bond: Globe-Trotter, Spectre trolley case in Navy, £1,400 ($2,165)
On a Budget: Reiss, Gallivant wheeled suitcase in black; £395 ($610)