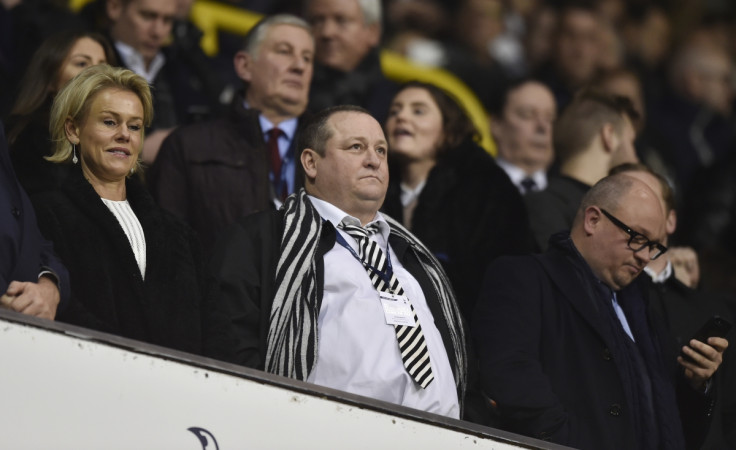 Maverick retailer Mike Ashley is bearing the brunt of criticism from the City he once described as full of "cry-babies" as the controversy over the working practices of Sports Direct deepens. Britain's biggest sportswear and sporting goods company is in the firing line amid allegations made in parliament that it was not paying staff the minimum wage.
Labour MP Dennis Skinner, who has the Sports Direct warehouse in his Bolsover constituency, told the House that Ashley was a "monster of a man that doesn't even reply to MPs' letters". It follows an investigation by The Guardian newspaper that reported working practices at the retailer's warehouse meant that many staff are effectively paid below the statutory minimum wage of £6.70 an hour.
The retailer denies this, saying it "believes it's in compliance with minimum wage regulations and takes its responsibilities extremely seriously".
In four days of trading as of 15 December, shares have tumbled 16% and £600m (€830m, $909m) has been wiped off its value. However, City analysts say that, despite the controversy, investors are likely to stick with Ashley, at least in the short term.
Connor Campbell, a senior market analyst at spreadex.com, told IBTimes UK that so far, Sports Direct stock has not shown any signs of rebounding but investors would be willing to follow him if he could secure a turnaround early in the new year.
He said: "Mike Ashley is the kind of chairman investors likely have nightmares over; idiosyncratic, erratic and uninterested in pleasing the markets. The recent fall in Sports Direct's value has seen some of the issues at the company come to a head, yet Ashley has created a successful company despite certain poor choices."
Bemoaning City people
Born in Burnham, Buckinghamshire, Ashley started the chain after leaving school in 1982. After he took it public in 2007, he stunned City analysts by declaring: "I've got balls of steel. Some investors have been great and very supportive but some of these City people act like a bunch of cry-babies".
He paid £135m to buy Newcastle United and in 2012, was ranked by Forbes magazine as the 15th richest person in Britain, with an estimated wealth of £1.5bn.
Julie Palmer, regional managing partner at Begbies Traynor told IBTimes UK that Ashley relishes being an outsider. She said: "If you are a high-profile character, you are putting yourself out there for attack and there will be people who will be waiting for the opportunity to do that, but I think he actually quite enjoys that position.
"He likes the fact that he is a poor boy made good and, like Philip Green before him, he quite appreciates that slightly antagonistic approach he has with some of the City. Let's not lose sight of the fact that it is a powerful retailer that is very good at what it does. It is quite an old-fashioned retailer and is different to the likes of Amazon, which has a slick, modernised computerised system."
She said, on the one hand, shareholders do want costs to be trimmed as much as possible, but equally they will not want the negative publicity.
Palmer added: "I think some analysts are looking at it saying that they have concerns over whether the juggernaut will continue in the direction it's been as a company that constantly delivers high profits. It does have an impact as people are more concerned about that nowadays rather than the cold hard bottom line.
"If you are clever, you can almost do both where you have got your eye on the bottom line but you go on the charm offensive with the things that you need to."
Major Sports Direct shareholders said they would meet later in December to put pressure on the company to change its boardroom.