Police investigating the death of an MI6 spy whose body was found inside a padlocked sports bag in 2010 have declared his death was probably an accident.
Officers discovered former GCHQ worker Gareth Williams naked and locked inside a North Face sports bag in the bath tub of his flat in Pimlico in 2010.
However, the coroner added that there has been "endless speculation but little real evidence" surrounding his death and that it may never be "satisfactorily explained".
An inquest into the spy's death said he probably died from suffocation as a result of being locked in the bag or from an unknown poison which disappeared in his system during decomposition and then placed in the bag.
Metropolitan Police has now said it is "more probable" that no one else was involved in the spy's death, but they could not "fundamentally and beyond doubt" rule out the possibility that a third party was involved.
Dept sst coms Martin Hewitt, who oversaw the investigation from Specialist Crime and Operations, said: "Many questions remain unanswered as to the circumstances of Gareth's untimely death.
"What is clear is that this has been a tragedy for his family, friends and those who knew him. Gareth was a private man, the universal view of whom was as a decent and conscientious colleague.
"After the inquest we reviewed all the evidence gathered up to that point and carried out additional enquiries.
"Learning from the inquest we set up our investigation in a different way, and this has led to greater clarity on some aspects of the case.
"Now at the end of our investigation, based on the evidence, or where we have been unable to find positive evidence, we believe that it is a more probable conclusion that there was no other person present when Gareth died."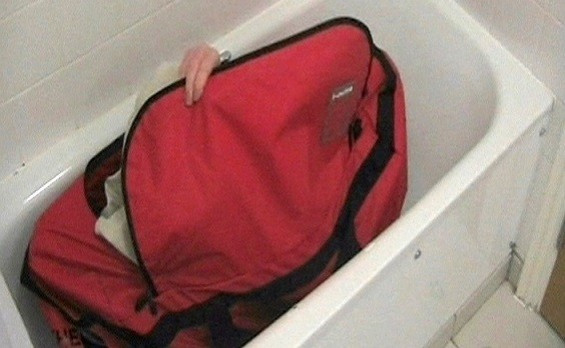 During the investigation into Williams' deaths, investigators found it was theoretically possible for a person to lock themselves inside the bag, with the same type of lock, and in the position the spy was found in.
There was also no evidence that Williams' flat had been subjected to a "forensic clean" following his death and fingerprints and traces of DNA going back years were recovered from the scene.
Met Police added there is "no evidence of any animosity towards [Williams], and it has not been possible to identify anyone with a motive for causing him harm".
William's family said how they are "disappointed" that the full circumstances surrounding his death are unknown and still believe he was killed unlawfully.