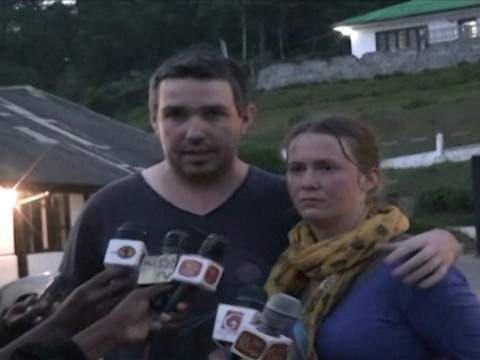 A Dutch honeymooner has miraculously survived a fall from the 4,000ft World's End cliff in Sri Lanka.
Mamitho Lendas, 35, was taking a photograph of his new bride at the famed tourist attraction, when he took a step backwards and plunged off the cliff.
Fortunately his fall was broken by a tree 130ft down the side of the rock face.
Mr Lendas described the cliff fall as 'very scary.' He explained: "I was making pictures and I had a misstep and I fell down backwards. Then I sat in (a bush) for like three and a half hours... the longest three and a half hours of my life."
"It was very scary and very painful as well," said Mr Lendas.
He survived the incident without suffering any serious injuries.
40 Sri Lankan army troops used ropes to reach him and winch him back to safety.
Sri Lankan army spokesman Brigadier Jayanath Jayaweera said Mr Lendas was "extremely lucky" to survive.
"He fell on top of a tree about 130ft from the top," he said. "He is the first person to survive a fall from World's End."
The World's End cliff is the main attraction at the Horton Plains nature reserve in central Sri Lanka and is a key tourist attraction.