A drone factory in Staffordshire owned by an Israeli arms manufacturer has had its attempt to block all protests on its site thrown out by a High Court after a judge ruled an injunction imposed in June should never have been put in place.
Activists have staged several protests down the years at the UAV Engines Limited factory in Shenstone, which produces parts for drones which were used for attacks on Gaza.
UAV states that it produces "engines for various size tactical UAVs, target drones and single mission platforms", and is owned by Israel's largest weapons company, Elbit Systems.
Last August, pro-Palestine activists scaled the roof of the factory in Staffordshire to call for an end to "all forms of military trade and cooperation with Israel". Similar protests took place at the factory in July 2015, at Elbit's Elite KL factory in Tamworth, Staffordshire, and at an Elbit's factory, Instro Precision in Broadstairs, Kent, as a part of a Block the Factory campaign to mark the one- year anniversary of the attacks on Gaza.
The protests in July took place despite UAV originally securing an injunction which prevented demonstrations taking place within 250 metres of the site in a run-up to the demonstrations, a decision campaigners say they were not notified of beforehand.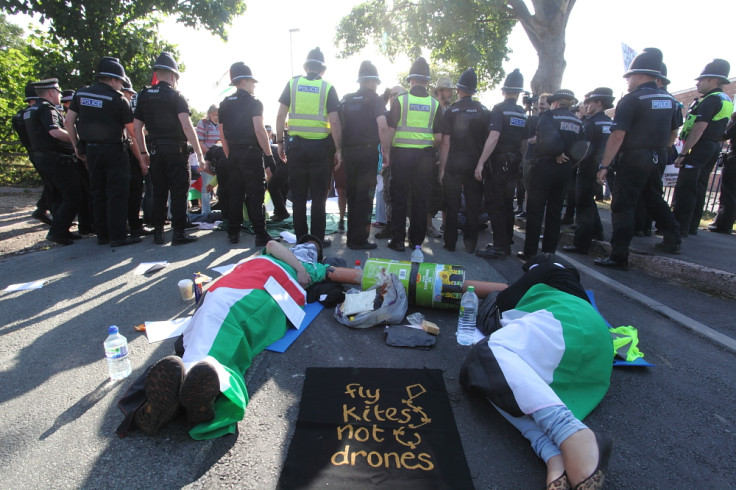 The injunction against any future protests has now been completely quashed after it was revealed Elbit had failed to disclose information on the history of protests at the site in Shenstone which have taken place since 2009. Judge Purle at the High Court said: "I think it inconceivable you would have got the same injunction, possibly even any injunction, if you had disclosed relevant information to me.
"Accordingly the injunction I granted on 30 June is dismissed ab initio [from the beginning] and it is as if the injunction never existed."
A spokesperson for the coalition that organised the Block the Factory protests, who challenged the injunction, said: "This injunction should never have been imposed. It seems to have been designed to deter protest and campaigning around ending the UK's deadly arms trade with Israel."
"It's Elbit Systems and its arms factories that should be facing a ban, not our protests. Today's decision will bring even more energy to our campaigning in solidarity with ongoing Palestinian resistance and for a two-way arms embargo on Israel."
Staffordshire Police arrested 19 people following the protest at the UAV factory in July. IB Times UK has contacted UAV Engines Limited for comment on the High Court decision.