American author Michael Peterson has won the right to a retrial 10 years after being jailed for bludgeoning his wife to death.
The novelist and failed politician, now 69, was convicted of his wife Kathleen's death, which the media described as the Staircase Murder, in 2003.
In a BBC4 documentary, Storyville: Death on the Staircase - the Last Chance, the events surrounding her death and Peterson's bid for a retrial are examined.
He always maintained she fell down a flight of stairs. However, forensic evidence of blood splatters and head wounds suggested he had beaten her to death with a fire poker at their home in North Carolina.
During his trial, prosecutors said Peterson had bludgeoned his wife to death after an argument.
They said he was having an affair with another man and after she confronted him about his sexuality, he killed her.
However, Peterson has always maintained his innocence. In the call to the emergency services he told the operator how his wife and fallen down the stairs and was breathing but not conscious.
He later told police how she had been drinking and taking Valium, and the fall had been an accident.
The case was further complicated when prosecutors linked Peterson to the death of Elizabeth Ratliff, who died in Germany in 1985 in similar circumstances as Kathleen - he was the last people to see her alive before she died from falling down some stairs.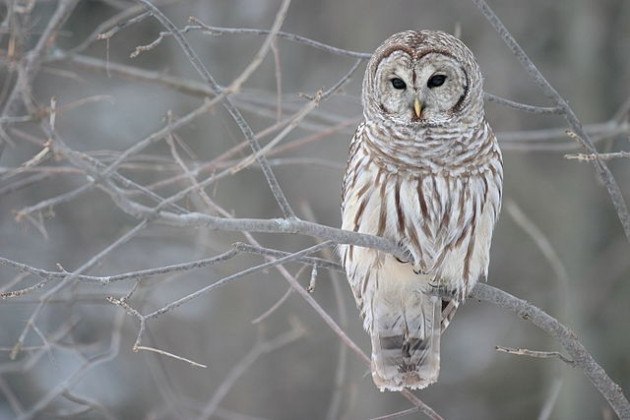 Owl killed Kathleen
In 2009 Peterson's lawyers came up with a new theory as to how Kathleen died, saying an owl had killed her, as there were feathers at the crime scene.
Kate Davis, executive director of Raptors of the Rockies, located in western Montana, was one of the three experts who supported the theory.
She wrote: "The lacerations on Mrs Peterson's scalp look very much like those made by a raptor's talons, especially if she had forcibly torn the bird from the back of her head.
"That would explain the feathers found in her hand and the many hairs pulled out by the root ball, broken or cut. The size and configuration of the lacerations could certainly indicate the feet of a barred owl."
Peterson's guilt over Kathleen's murder was called into question after Duane Deaver, a State Bureau of Investigation analyst, was found to have misled jurors about the blood evidence at the 2003 trial.
He was fired by the state after it was found he misrepresented over 30 cases and Peterson was awarded a retrial.
After being freed on a $300,000 bond in December 2011, Peterson said: "I have waited for over eight years. What I want to do now is to spend time with my family."
A date for the retrial is to be set. On his release, Kathleen's sister Lori Campbell said she was unhappy with the decision to let him out: "I would request he stay in jail until 12 new jurors say he's not guilty," she said.
Storyville: Death on the Staircase - the Last Chance is on BBC4 at 10pm tonight (Monday).