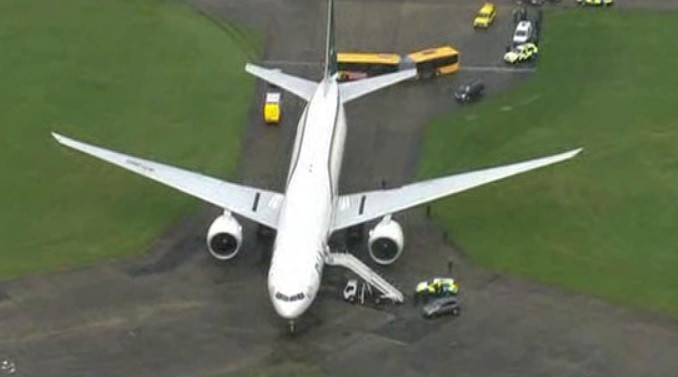 Two men have been arrested on suspicion of endangering an aircraft following an incident on a flight from Pakistan to Manchester.
Pakistan International Airlines flight PK709 was escorted by RAF Typhoon fighter jets to Stansted airport after reports of an incident involving passengers onboard.
Essex Police said that after the diverted plane, with 297 passengers and crew aboard, landed at the airport outside London, two men aged 30 and 41 were taken off and arrested.
The suspects have been taken to a police station to be interviewed by detectives.
"Police and partners are continuing to respond," a spokesman said.
The flight was heading from Lahore in Pakistan to Manchester and was 10 minutes from its destination. The Ministry of Defence confirmed that two jets were scrambled from RAF Coningsby in Lincolnshire to escort the plane into Stansted.
Authorities at Stansted said that no passengers were hurt. The airport was operating as normal.
A spokesperson said passengers "will be taken to a reception centre at the airport where police may wish to interview them about what they have seen".
"At some point police and the airline will arrange for their onward transportation to Manchester."
The incident is not believed to be terror-related. It was reported that the pilot asked for the plane to be diverted after one passenger became abusive and threatening during flight.
One of the passengers, Umari Nauman, told Sky News, "The cabin crew informed us that basically they tried to come into the cockpit a few times, and because they had been asked not to do that they got into a bit of an argument with the crew and made a few threats".
An MoD spokesperson said earlier: "A Typhoon aircraft has been launched to investigate an incident involving a civilian aircraft within UK airspace."
A Manchester Airport spokesman said: "A Pakistan International Airlines aircraft which was due to land at Manchester Airport at 13.30 BST today has been diverted to our sister airport London Stansted."