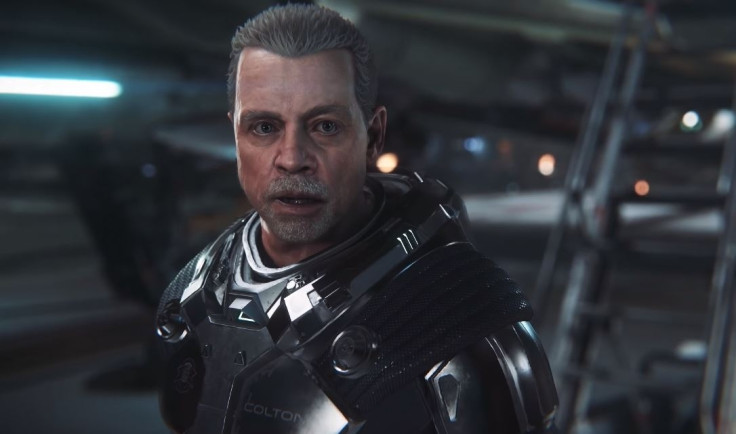 Capitalising on Star Wars: The Last Jedi currently being the world's number one movie, the team behind gargantuan sci-fi video game Star Citizen has released a new cinematic for single-player campaign Squadron 42 featuring the legendary Mark Hamill.
The short cutscene (revealed by IGN) is our first look at Hamill as Old Man Colton: a grizzled and hardened space pilot who players – as a rookie pilot – will fly alongside and aim to impress. He makes it pretty clear this is going to be a tall order.
Colton chastises another young pilot clearly intimidated by his presence, before he turns to the player – viewing him from a first-person perspective – who attempts to introduce himself.
"You want me to learn your name? Do what I say and live long enough for me to care," Colton says, interrupting.
Squadron 42 has been described as a spiritual successor to Wing Commander, the first game for Star Citizen creator Chris Roberts. For Hamill the role represents a return of sorts as he starred in the hit space combat series' third instalment in 1994.
Star Citizen is the product of the most successful crowdfunding campaign of all time. The project has raised $174m (£130m) from nearly two million backers.
The game has grown in ambition to match the incredible sum, promising to include interstellar trading, flight and combat in a massively multiplayer online game. There will also feature 100 star systems, numerous ships, elements of procedural generation and first-person shooter sequences.
Squadron 42 is a separate, narrative-driven single-player campaign starring big name stars like Hamill, Gillian Anderson, Mark Strong, Andy Serkis and Gary Oldman. You can see where the money has gone.
The game is expected to finally be released in 2018 after years of delays owing to the project's enormous size and scope. No firm street date has been announced, however.
Developer Cloud Imperium Games is to host a holiday livestream at 8pm UK time (12pm PST, 3pm EST), during which further details about the game will be revealed.