Disney XD has released the official synopsis for Star Wars Rebels season 2 finale episodes, which teases a major fight scene between Ezra Bridger, Kanan Jarrus, Ahsoka Tano and Darth Vader. The one-hour finale episodes are titled Twilight of the Apprentice: Part I and Twilight of the Apprentice: Part II.
Episode 21 and 22 will air on 30 March at 9pm ET on Disney XD and the synopsis reads as follows:
After gaining information about the Sith, Kanan, Ezra and Ahsoka battles the Inquisitors with the help of a new ally, but are overmatched when Vader arrives.
The finale episode will feature the moment that all Star Wars fans have been waiting for — a showdown between Ashoka and her former master Darth Vader. The synopsis also teases a new ally in the Rebels team. Maybe Jedi master Obi-Wan Kenobi will fight alongside the Ghost team.
Also, there is a looming concern about Ezra turning to the Dark Side. In the previous episode, Kanan, Ezra, and Ahsoka travelled to the Jedi temple on Lothal to get some answers. While Kanan is confronted by the temple guard about Ezra's dark urges, he refused to give up on his apprentice. Turns out the fight was part of a test after which he was pronounced a Knight of the Jedi Order.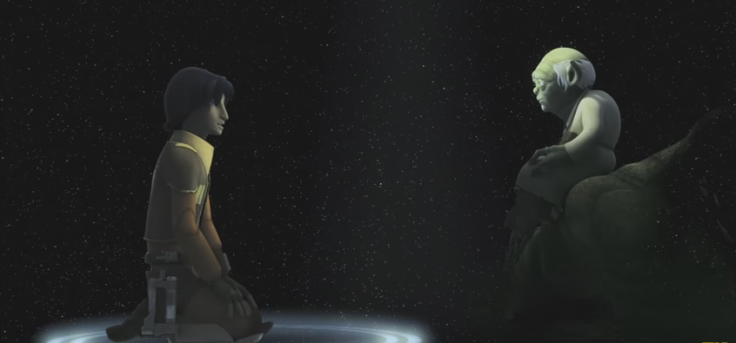 Meanwhile, Ezra received a warning from master Yoda about the Dark Side and the young Jedi was asked to head to Malachor for more answers. Ahsoka then had a vision of her master Anakin Skywalker, who confronts her for leaving him in his darkest hour. "Do you know what I've become?" he says, before transforming into Darth Vader.
Showrunner Dave Filoni discussed the Ahsoka and Anakin confrontation and shared: "I've tried to give as many clues as I can as to what did happen after Ahsoka left the Jedi Order. For now, I have to treat the characters with the experience that I know they had."
"So Ahsoka can't lie and say 'The last time I saw Anakin I walked away from him at the Jedi Temple.' No, no, no! Because she has seen him since then. She was involved in a very important mission at the end of the Clone Wars. We've gotten to tell a very critical piece of her story, one that I wasn't sure we'd get to tell after The Clone Wars stopped." he added.
Talking about Ahsoka's story, the showrunner teased: "We're so close now, to the end, so it's exciting." Does this mean Darth Vader will kill Ahsoka in the finale episode? We will have to wait till 30 March to get the answer.