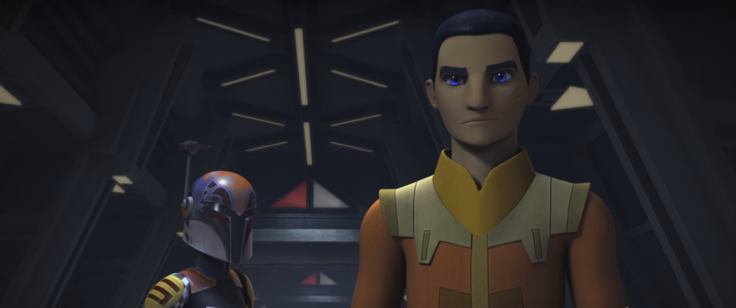 Disney XD/Lucasfilm have unveiled the first look of Star Wars Rebels season 3, which will feature a grown-up Ezra Bridger, who is excellent with a lightsaber. The new clip was released a day ahead of Star Wars Celebration to be held in London between 15 and 17 July.
Executive producer Dave Filoni unveiled the new footage during this week's episode of The Star Wars Show, which featured Ezra, Sabina and Zeb. Judging by the clip, it seems like the Rebels are being chased by Imperial troops, after they got hold of Hando to retrieve some important information.
Ezra, who was last seen struggling to resist the Dark Side of The Force in the season 2 finale, is seen fighting Imperial Stormtroopers like a pro-Jedi in the new video, thereby confirming that season 3 will premiere with a big time jump. In the clip, Hando says, "I knew you will not let your old partner Hando rot away in this prison." An excited Ezra greets him, "Its good to see you." To which, Zeb adds, "Not really!"
Sabine is more direct in her approach and immediately says, "You better have the intel you promised." And he says that his business associate, Turbine, has the intel. Following this they get spotted by the Stormtroopers and a fight breaks out.
The Rebels are seen running towards their ship, as Ezra displays his Jedi powers and lightsaber abilities to take down 5 guards all by himself. Seeing this Hando asks, "Is that really Ezra?"
"Most of the time," Sabine replies.
Meanwhile, a panel for Star Wars Rebels will be organised on 16 July at Star Wars Celebration, during which Filoni will be joined by voice actress (for Sabine) Tiya Sircar and the voice of Darth Maul, Sam Witwer. At the event "highly guarded sneak peeks at what's to come in Star Wars Rebels Season Three, including a screening of the first two episodes", will be shared, according to an official announcement.