Stephen Colbert's #PuberMe campaign for Puerto Rico hit $1m mark: Check out the top entries
The Late Show host asked celebrities to share their embarrassing puberty photos to raise money for victims of Hurricane Maria.
Stephen Colbert's #PuberMe campaign to collect money for the victims of Hurrican Maria in Puerto Rico has managed to touch the $1m mark. The Late Show host, along with actor Nick Kroll launched the Twitter initiative, encouraging celebrities to send in their most embarrassing pictures during their awkward teen years with the hashtags #PuberMe and #PuertoRicoRelief.
I'm best known as an ice cream model," Colbert told his audience, showing them a tup of his Ben & Jerry flavour, Americone Dream. The profits made from the ice cream's sales go to the Americone Dream Fund for charity and this time around, Colbert vowed to donate $1000 towards One America Appeal for every celebrity who posted a puberty photo.
Over the last week, the host has been sharing some of the submissions (including his own) and managed to contribute $233,000 towards the relief campaign. Kroll and his Netflix show Big Mouth donated an additional $100,000, CBS matched the total amount raised and brought the total to $666,000.
"That'd the devil's donation," Kroll joked via a phone call from Argentina.
The Americone Dream Fund the made an additional donation of $266,000 for all the 'non-celebrities' who also shared their puberty photos for the cause, (Kroll three in another $67,000) bringing it to a total of $999,000.
"If only we had one more awkward celebrity puberty photo, but we don't," Colbert said before Hamilton star Lin-Manuel Miranda stumbled onto the stage.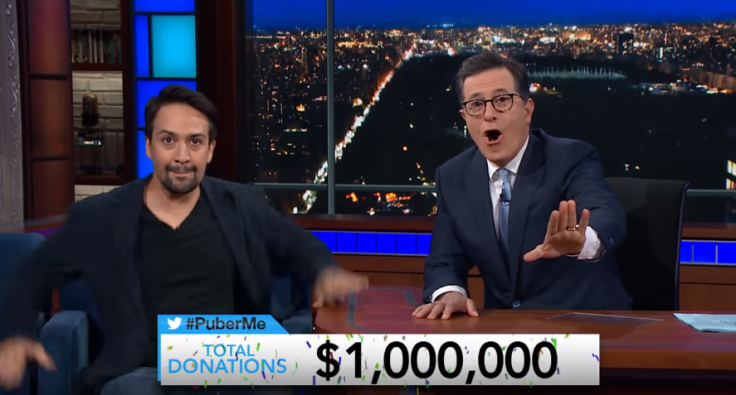 "I heard you needed an awkward picture and I think I might be able to help," the award-winning Broadway star offered before promoting his new song Almost Like Praying, the profits for which would also be directed towards Hurricane Maria relief.
While he could not come up with a puberty photo, Miranda did one better and instead shared an awkward puberty video in which he sings about how his teen self doesn't like New York. With that clip, the #PuberMe campaign rounded up to $1m.
© Copyright IBTimes 2023. All rights reserved.