Stephen King urges Americans to 'cool the clown hysteria'
The horror author spoke out as US is gripped by fear of 'clownagdeddon'.
Horror writer Stephen King has urged Americans to calm down as a further spate of "clownageddon" incidents continued across the country.
"Hey, guys, time to cool the clown hysteria — most of em are good, cheer up the kiddies, make people laugh," King tweeted.
King's 1986 novel It features a monster named Pennywise who appears in human form as a murderous clown who terrorizes a group of young children. Tim Curry played the clown in a 1990 TV miniseries.
So "you kinda started it", one tweeter responded to King.
Another chuckled "do go on" with a Gif of Curry as Pennywise.
Sightings of menacing clowns began this summer in Greenville County, South Carolina, where residents reported scary clowns hanging around and trying to lure children into a wooded area.
They've since been spotted in at least 15 other states — and Newcastle in the UK — and the internet is now riddled with threats from "clowns", most of them aimed at schools.
Law enforcement authorities across the US are taking the menace seriously. They don't know what the clowns' motivations are, and they worry about violence between a clown and a frightened or furious citizen.
They also suspect that many of the sightings are teens playing pranks and people making false reports.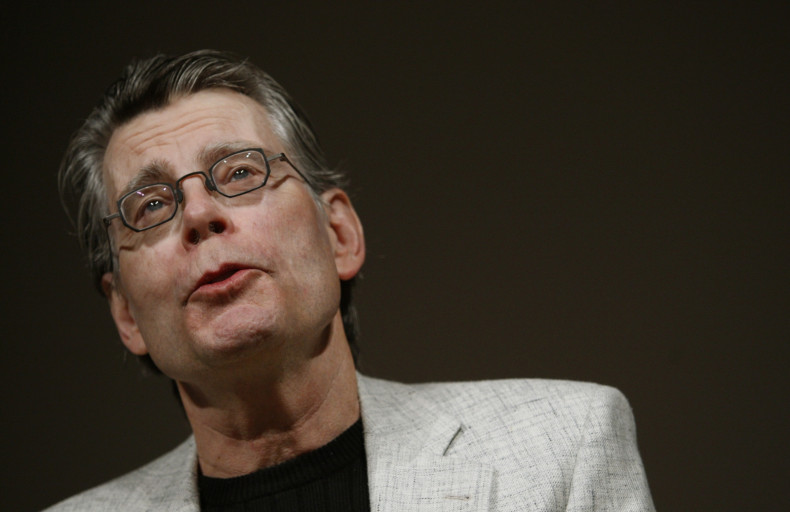 Two girls were just charged in New Jersey with making up clown stories, and two teenage boys were cited following complaints that they were hanging out of the window of a vehicle wearing masks and driving recklessly, reported NBC News.
Police in Sheboygan, Wisconsin, said on Facebook that the department received several calls about "creepy clowns" walking around, and warned people to "stop clowning around".
There is "nothing illegal with walking around in a creepy clown costume," the police added, but "trespassing... knocking on residents' windows, chasing citizens ... and sending threatening messages can lead to a citation or an arrest."
The Guardian speculated recently that the clown sightings were an elaborate hoax to raise interest in an upcoming movie of the independent horror movie 31, by director Rob Zombie, which features a gang of sadistic clowns. (A movie of King's book It is also coming out 2017.)
But many of the sightings are chilling — and have even been deadly. A teenager was stabbed to death in Pennsylvania in September by someone wearing a clown mask.
More than a dozen people have been arrested across several states over recent weeks, and a White House spokesman was even asked about "creepy clowns" at a press briefing.
"I don't know that the president has been briefed on this particular situation," White House spokesman Josh Earnest said.
King himself sang a slightly different carnival tune about creepy clowns in September.
Then he attributed the clown scare in the Carolinas to a recurring phenomenon: the supernatural bogeyman who lurks in the shadows. Phantom clown scares have happened before, most notably in the 1980s in Massachusetts, New Jersey and Arizona, among other spots.
"I suspect it's a kind of low-level hysteria, like Slender Man, or the so-called Bunny Man, who purportedly lurked in Fairfax County, Virginia, wearing a white hood with long ears and attacking people with a hatchet or an axe," King told the Bangor Daily News in Maine, where he lives.
"The clown furore will pass, as these things do, but it will come back, because under the right circumstances, clowns really can be terrifying."