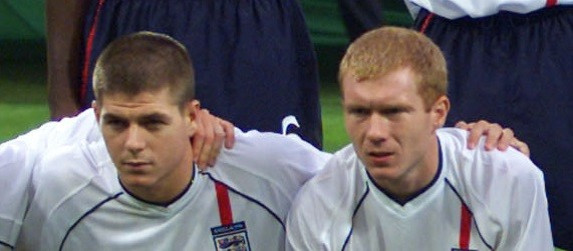 Former Liverpool manager Roy Evans says Steven Gerrard and Paul Scholes should not be directly compared.
Sir Alex Ferguson's latest autobiography includes reference to Gerrard, who he says was never a 'top, top player' while the Scot is keen to herald Scholes who came from the club's youth system to become an Old Trafford great.
Gerrard, the Liverpool captain and Scholes, who retired at the end of last season along with Ferguson, are considered among the finest players in Premier League history but Evans says comparing the two is futile.
"Scholes and Gerrard it's hard to compare together but they're different players," Evans told the 5Times Podcast. "It's hard to compare at the end of the day."
The reaction to Ferguson's latest book has been dominated by his focus on players he infamously offloaded during his 26 year reign at United, with Roy Keane, David Beckham and Ruud van Nistelrooy coming in for criticism.
Ferguson also used the book to criticise Liverpool at length, including former managers Rafael Benitez and Kenny Dalglish while he said Brendan Rodgers' current outfit are several new signings way from contesting for the title.
And Evans, who describes his relationship with Ferguson as good during a four-year spell managing Liverpool, says the 71 year old should have refrained from criticising his former cohorts.
"I got on well with Fergie I had no problem with him," he added. "When he was manager at Man United and I was manager at Liverpool what would go on on the pitch, you'd argue to the point of fighting each other.
"Overall to a lot of young managers he's been very helpful and to a lot of young managers across the country he's been an inspiration.
"Some of the English managers couched up to him a little bit. I used to say to him 'you've got all the referees in one hand, the managers in the other'. He said to me 'just make sure you don't tell anybody!'
"You don't have to slag people off to sell books, it's not in my nature and they want to tell the whole truth and nothing but the truth. You have to remember that one day they might write about you. I'm not a fan of people slagging off people in the press."