Stinkyleaks: Ecuadorian embassy staff complains about Julian Assange's poor hygiene
The WikiLeaks founder is apparently notorious for not showering or changing his clothes.
Julian Assange's lack of cleanliness was reportedly one of the reasons behind Ecuador's recent attempts to extricate him from his five-year standoff in its UK embassy.
A "well-placed" source told The Times that embassy staff have repeatedly complained about Assange's poor hygiene. The WikiLeaks founder has been holed up at the embassy in Knightsbridge since 2012 and was recently granted Ecuadorean citizenship.
The claim regarding Assange's hygiene was revealed after it emerged that Ecuador's application to assign the 46-year-old diplomatic status was rejected by Britain.
"It seems he doesn't wash properly," the source, who has visited Assange at the embassy, told The Times.
The issue was a likely incentive in the recent bid to end the legal and diplomatic row Assange created when he sought refuge at the embassy. Assange failed to avoid extradition to Sweden for questioning on allegations of rape and sexual assault and instead holed himself in the Ecuadorian embassy.
The charges in Sweden have since been dropped after prosecutors questioned him at the embassy. However, Assange still faces arrest for skipping court bail and could be jailed for between two and 10 weeks if he leaves the embassy.
Assange claims US authorities have prepared a sealed indictment and intend to extradite him for sedition and espionage after WikiLeaks published hundreds of military and classified documents. A US official said on Wednesday (10 January) that arresting Assange remained a priority. The US did not confirm whether it would request his extradition if he were arrested in the UK.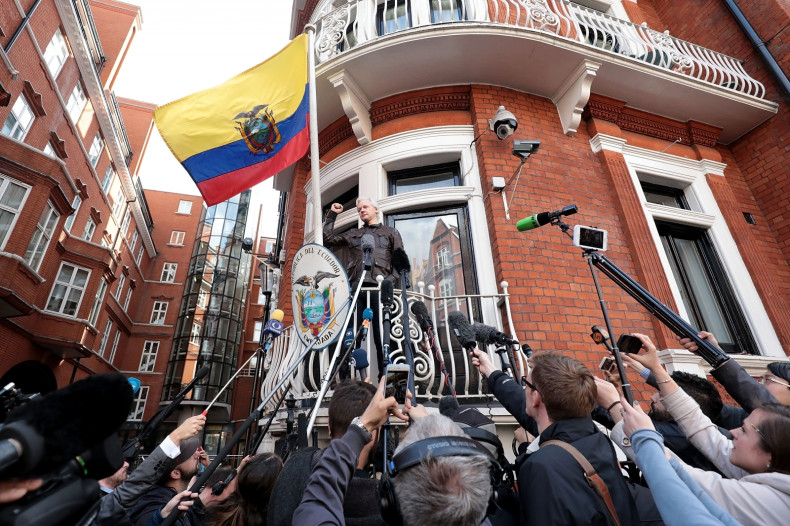 The Ecuadorian embassy is located in a flat that takes up half the ground floor of a red-bricked mansion block near Harrods. Assange complained that noise from a loading bay prompted the ladies' lavatory to be converted into a bedroom. The redesign has forced embassy staff to share the single bathroom with him.
Jérémie Zimmermann, a friend and former colleague of Assange, wrote in 2012 that "unless the people around him force him into the shower, he might not change his clothes for days".
One of Assange's closest aides, Daniel Domscheit-Berg noted: "Julian ate everything with his hands and he always wiped his fingers on his pants. I have never seen pants as greasy as his in my whole life."