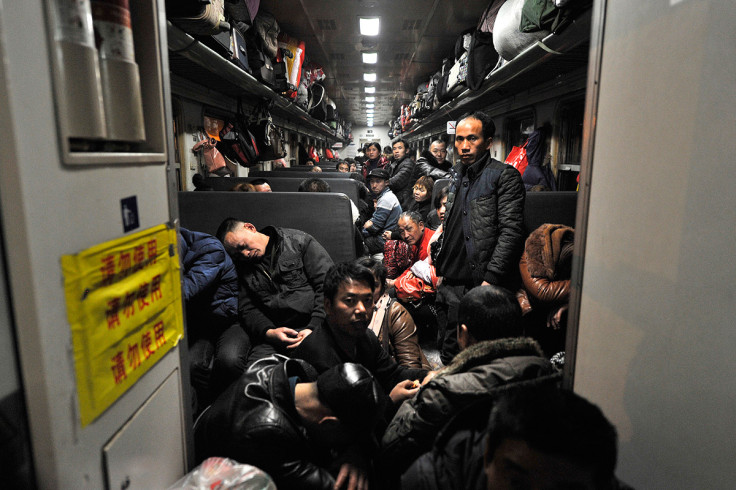 A group of five women and three men on a crowded underground train in China, drank poisonous liquid from a canister and collapsed in agony.
Video footage shows the men and women grimacing as they drank the noxious substance on 26 December. Terrified commuters fled in panic away from the scene as members of the group fell to the floor.
The white liquid can be seen splashed across the train floor and eyewitnesses say a strong odour was coming from the group as they got on the trains.
Police boarded the train at Tiananmen West Station and began pulling the unconscious people on to the station platform.
Four remain seriously ill in hospital with poisoning, while another four have reportedly regained consciousness. The victims are believed to range from 30-60 years in age.
According to the Epoch Times, the people who tried to commit suicide are victims of a stock exchange financial fraud and are in massive debt.
It's reported the stock traders had complained several times about the alleged fraud, but received no support from officials and were protesting about their plight.
Other victims of the alleged fraud said that they had lost everything and their families refused to have anything to do with them.
A microblogging site reported the incident, according to Central News Agency and posted screenshots of people drinking the pesticide, then falling to the ground.
The video was later removed because of "copyright issues" and Chinese officials have not confirmed the authenticity of the footage. Official media in China have not reported on the incident.
Fraudulent loans are on the increase in China, and the latest scalp to emerge is the Bank of Liuzhou where $4.9bn in fraudulent loans were uncovered by the bank in 2015, according to China Business Journal.
A new chairman at Liuzhou found huge debt accrued by one borrower under the leadership of the previous bank boss.