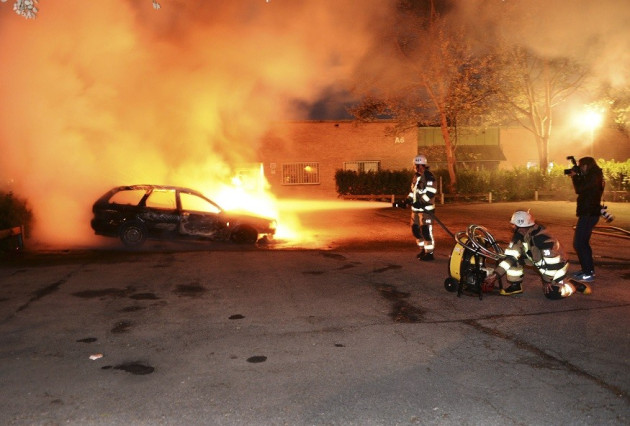 Stockholm has been hit by a third night of rioting following the shooting of an elderly man by police in a deprived area largely populated by immigrants.
Eight people have been arrested. Buildings and vehicles were set alight and rocks and missiles thrown at police in the suburbs of the Swedish capital.
The rioting first flared up in the northern suburb of Husby after police shot dead a 69-year-old man who was allegedly wielding a machete and threatened to kill the officers. The man has not been identified.
The shooting led to claims of police brutality by residents of Husby, an area where four-fifths of the 12,000-strong population are immigrants from Turkey and the Middle East.
Police were also accused of stoking tensions by using racial slurs against rioters.
Long-standing racial tension
The rioting has spread to nine other Stockholm suburbs and authorities fear it could spread further.
Residents said the rioting was the result of long-standing racial and social tensions that have been building in the area.
Rami al-Khamisi, a law student and founder of the youth organisation Megafonen, told Swedish news site The Local: "You have to see what happened from a wider point of view. It's not the first time something like this has happened, and it's not the last.
"This is the kind of reaction when there isn't equality between people, which is the case in Sweden."
Khamisi added that the crowd was reacting to a "growing marginalisation and segregation in Sweden over the past 10, 20 years" on both class and race grounds.
"Out in the suburbs the majority of people aren't white and from a political perspective we're seen as a problem that politicians want to solve by sending more police. This is not a solution we agree with."
According to date from the Organisation for Economic Co-operation and Development, 15% of the population in Sweden are foreign-born - the highest in Scandindavia.
Unemployment among those born outside Sweden stands at 16%, compared with 6% for Swedish-born.
Tensions over immigration has seen an increase in popularity for the anti-immigrant party the Sweden Democrats, which is third in the polls ahead of a general election due in 2014.
Prime Minister Fredrik Reinfeldt previously said of the rioting: "We've had two nights with great unrest, damage and an intimidating atmosphere in Husby and there is a risk it will continue.
"We have groups of young men who think that that they can and should change society with violence. Let's be clear: this is not okay. We cannot be ruled by violence."