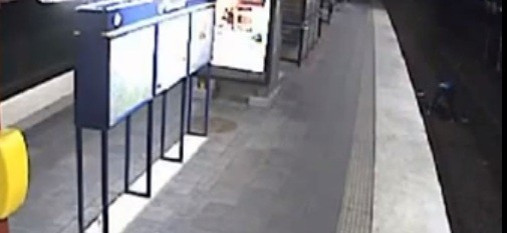 A 28-year-old man who robbed a train passenger after he fell on the tracks then left him to be hit by a train has been sentenced to 18 months in jail.
Nadar Khiari has also been ordered to pay his victim in damages £1,125 and will be deported from Sweden to Tunisia once he has finished his sentence.
Khiari was not charged for failing to help the drunk man who had fallen onto the subway tracks in Stockholm, as Swedish law does not require people to do so.
The incident gained huge attention after CCTV footage of Khiari robbing his victim before leaving him on the tracks at the Sandsborg station, south of Stockholm, was broadcast on Swedish TV and went viral after it was uploaded online.
The incident, in September, led to the suspect being regarded as one of Sweden's most wanted men.
The 38-year-old victim, referred to as Johnny in the Swedish media, lost his foot in the incident but survived.
Södertörn district court described him as being "in a particularly vulnerable position, lying intoxicated and injured on the subway track without any opportunity to protect himself, in danger of being killed or seriously injured. Nadar Khiari must have been fully aware of this."
Khiari confessed to stealing the man's mobile phone, a silver case and a gold neckchain.
TT, the Swedish news agency, said Khiari had the stolen the phone because he needed something to sell to pay for food and medicine.
He said he left the victim on the line as he was afraid he would be suspected of pushing him.