Heavy rain and gales continue to hit parts of the UK as Storm Frank brings fresh fears of further flooding across the country. People are being evacuated from their homes while thousands of families have been left without power as winds of up to 80mph battered communities overnight.
Four severe flood warnings – meaning there's a "danger to life" – remain in place across northern parts of England, while 117 further warnings requiring "immediate action" are in place in towns across the UK.
Communities across Cumbria and Yorkshire have been warned by the Environment Agency to prepare for further "significant" flooding from today (30 December) through to 1 January. This will add to misery already felt by many families in those regions, who have been hit by floods during Christmas night and Boxing Day following storms Desmond and Eva.
About 5,500 homes are without power across the north of Scotland, where amber "be prepared" warnings were in place across large parts of the country. The current 71 flood warnings and 14 amber alerts issued in Scotland are expected to increase in number. Richard Brown, the head of hydrology at the Scottish Environment Protection Agency (Sepa), told BBC Radio Scotland the situation is "still very much deteriorating", adding: "We expect a big increase in that [flood warning] number as the morning goes by."
More than 2,000 homes also lost power in Northern Ireland overnight, where air travel out of Belfast airport experienced delays due to high winds.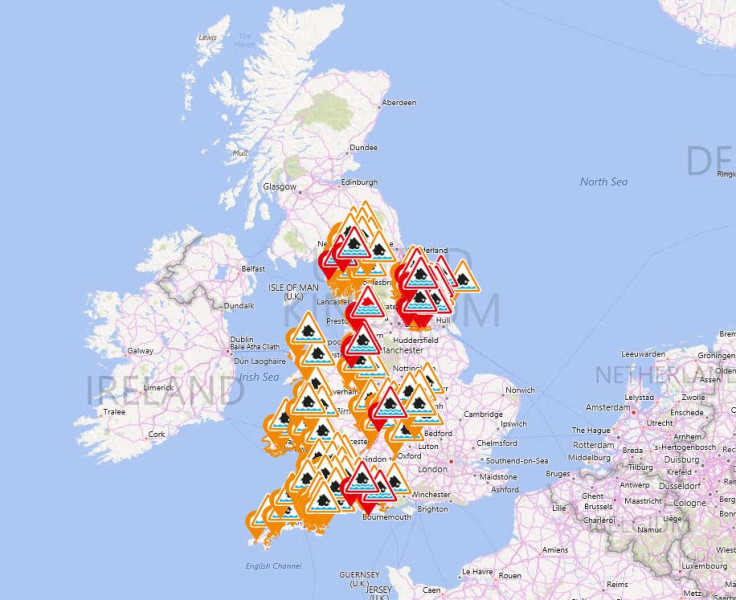 The night saw significant rainfall in the north of England, where previous storms Desmond and Eva had already caused rivers to break their banks. Last night, the army helped evacuate residents in Tadcaster, North Yorkshire, after a section of the town's historic bridge collapsed into the River Wharfe. A severe flood warning remains in place there, as well as at three separate locations across along the River Yarrow in Lancashire.
The night also saw the army help repair the crucial York's Foss Barrier, which is now operational after having been "overwhelmed" by flood water during previous floods. While water levels in York were said to already be receding as a result of the work, they are expected to rise again later in the week.
For only the second time in its 151-year history, the Clifton Suspension Bridge in Bristol has also been closed because of high winds.
Meanwhile, questions continue to be asked over the support given to families hit by flooding. The government's handling of the crisis has been criticised, with Sir Philip Dilley, chairman of the Environment Agency, lambasted for continuing his holiday in Barbados instead of helping with the flood relief effort. This was despite previously telling MPs he would work "seven days a week" if there was a flooding, crisis and criticising his predecessor Lord Chris Smith for taking six weeks to visit Somerset when it was hit by floods in 2013. Sir Philip returned to London this morning and is expected to meet flood victims later today.
Families have also had to suffer looting. Yesterday, police in Yorkshire publicly condemned thieves who targeted flood victims by breaking into businesses and homes and stealing valuables left in and outside flooded properties. It saw West Yorkshire's overstretched police force even welcome the help of community patrols organised by bikers from local motorcycle clubs to protect flooded towns from opportunistic thieves.
The flooding through Christmas night and Boxing Day led experts to estimate the cost of the damage would top £5bn ($7.4bn), with some uninsured families and businesses facing financial ruin.
December has been a record-breaking month for rainfall in some parts of the UK, with exceptional amounts of rain falling onto already saturated ground. Rainfall amounts were around 10cm with peaks of 13cm in Lancashire and in excess of 20cm in Snowdonia.
Craig Woolhouse, director of incident management at the Environment Agency, said: "Our hearts go out to those that have been flooded. Environment Agency teams continue to work around the clock in difficult conditions, to protect homes, communities and land.
"The weather continues to be hugely challenging, with more rain threatening to cause further flooding in Cumbria and Yorkshire on Wednesday and through to Friday. We urge communities and visitors, particularly in Cumbria to prepare and not to walk or drive through flood water.
"The public should continue to listen to and co-operate with the emergency services, particularly those in the areas where severe flood warnings have been issued. People can sign up to receive free flood warnings, check their flood risk and keep up to date with the latest situation on the Environment Agency website and on social media using #floodaware."