The series is often criticised for its graphic scenes but actress Natalie Dormer is proud of the sex and violence in HBO's Game Of Thrones. The British star adds that she has never felt pressured by producers to take part in a scene which made her feel uncomfortable.
The 31-year-old actress, who plays Margaery Tyrell in the fantasy series, has enjoyed her fair share of on-screen romances with the likes of King Joffrey Baratheon and Renly Baratheon. In an interview with The Telegraph, Dormer has defended the level of sex featured on the show and believes it is done in a tasteful way to serve the story arcs.
The Hunger Games actress explained: "Sex and romance is a huge part of human motivation. So long as it's informing the story then I don't see what the problem is. Obviously no one likes gratuitous sex or gratuitous misogyny the same way people shouldn't like gratuitous violence."
She continued: "But I think Thrones is quite good. The violence is quite naturalistic. It's not hyper-stylised. It's not glamourous. The sex is quite real and dirty as well. It's about those raw, visceral qualities of human life that make good drama."
Although her character has enjoyed a number of bedroom scenes, Dormer states that she has never received a script requiring her to take part in something she is against during her time on the show. The actress told the publication: "Welcome to being an actress under a certain age in the industry.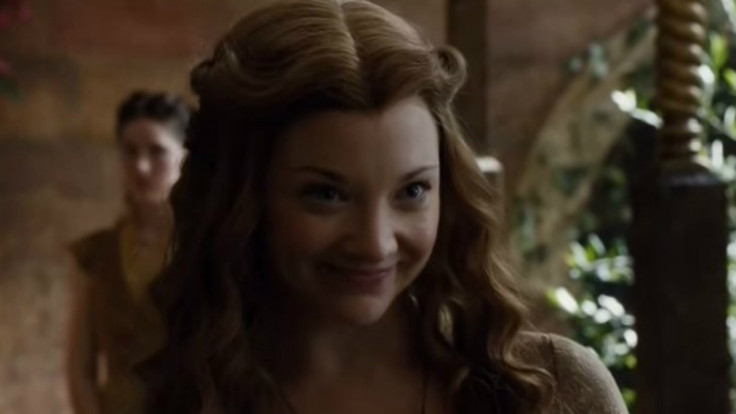 "But you know there are sensitive men in the industry as well. It's not just men against women. [Producers Dan] Benioff and [DB] Weiss are liberal-minded Americans who believe in equality and we're all serving the story."
The imbalance of male to female nudity in the series has long been a topic for rampant discussion and has resulted in other cast members speaking out on the issue. Emilia Clarke, who plays Daenerys Targaryen, told Radio Times in April 2015: "You start to see all of the women in the show accepting who they are and embodying that with such power that it's palpable. I think that's the beauty of the show: as women, we accept our femininity and take strength from it, as opposed to trying to hide it and behave in a masculine way."
Speaking to reporters at a press conference in February 2015, Jon Snow actor Kit Harington also weighed in on the debate, arguing that there is a fair amount of male actors stripping off on camera. He said: "I do think there should be an equal amount [of male and female nudity] but I think it's wrong to say there isn't any male nudity in Thrones.
"Unfortunately, you can't show a man sexualised on TV because of all the problems that that entails. There's more than in any other show – it's just the ratio [that's the problem]."
The Game Of Thrones cast are believed to have started filming season six with several cast members spotted arriving in Belfast throughout July.