As his 18-year marriage to Louise Redknapp started falling apart, Jamie Redknapp, 44, made an anxious phone call to Karen Clifton, who then then warned Jamie to keep his wife away from her husband, Kevin, it has been reported.
Kevin, 35, and Louise, 43, became close when they were paired for BBC1's Strictly Come Dancing in 2016. The two were runners-up on the dance reality show, with Ore Oduba eventually winning the title.
After the series ended, Kevin and Louise travelled the country together for Strictly's tour.
The former footballer is said to have been troubled by the rift in his relationship after Louise went to participate in the show. This forced him to make the difficult phone call to Karen, behind his wife's back.
According to the Sun, the shocking details of the phone conversation have now been revealed.
A source told the newspaper that Karen urged Jamie to help her save their marriage by making sure Louise steered clear of Kevin. "Keep your wife away from my husband. She's ruining our marriage," the source quoted the Venezuelan dancer as saying.
The insider added: "Jamie was very concerned about his marriage and had become aware of Louise sending text messages to Kevin.
"He made the decision to call Karen without Louise's knowledge, which was a very hard thing for him to do.
"He asked Karen if he thought their partners were having an affair. Karen was very upset at the time and that's when she asked Jamie to try and keep Louise away from Kevin."
On Sunday (3 December), it was reported that Louise had filed for a divorce from Jamie, having failed to mend their broken marriage.
"They have come to a mutual agreement that divorce is the only option. Louise has filed the paperwork and there's no going back," an alleged source told The Sun at that time.
The estranged couple married in 1998 and have two sons together, Charley and Beau.
Karen and Kevin, who have been married for two years, have also been struggling with their own marital problems.
Reports about Karen, 35, kindling a new romance with accountant Stuart Wood, 27, have surfaced recently as the two were spotted together on various occasions.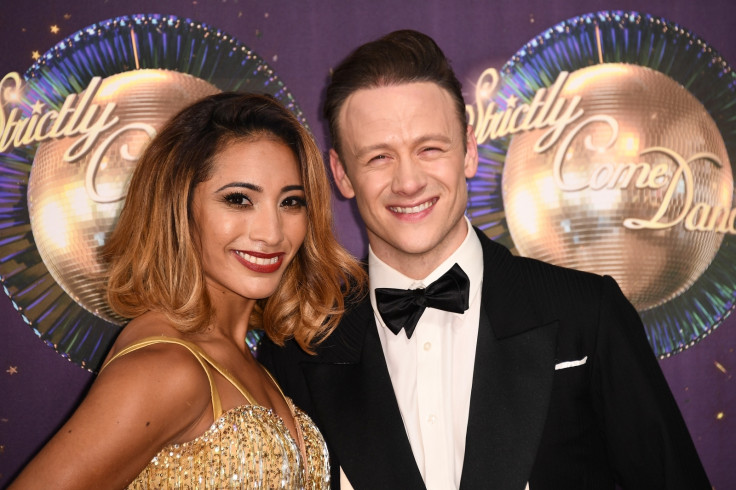 When Jamie made the call to Karen, the source claims that: "Emotions were running high as it's not the type of situation either of them expected to be in."
The football pundit's action is said to have infuriated Louise, who considers Karen to be a close friend.
A source was quoted as saying: "Louise and Kevin are close friends through their work on Strictly Come Dancing. She's also friends with Karen.
"She thought it was ridiculous that Jamie had called Karen because it made a situation totally uncomfortable unnecessarily."
The Eternal singer has recently resurrected her career and has taken on the lead role in a touring production of Cabaret. She has also released an updated version of her previous hit number Naked.
Her career comeback is said to have displeased Jamie who wants Louise to be a "wife and mum first". This led the couple to believe that their marriage, which was already hanging by a thread, could not be salvaged. The footballer, however, has repudiated such claims.